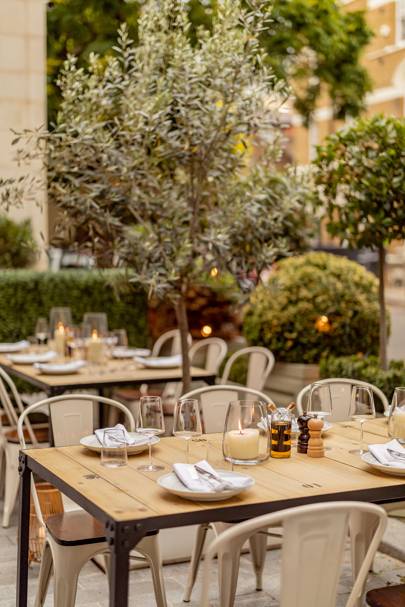 Those Chanel-attired, Manolo-heeled matriarchs of Belgravia love this landmark hotel. Rightly so; it's discreet and charming, but then everything The Berkeley does is executed with such panache, from the Winter Cinema on the rooftop to its now legendary cocktail delivery service on the hotel's Blue Bar bicycles (which is complimentary for anyone in SW1X).
As Belgravia's enduring hotspot hotel, this is always the most glamorous staycation address in the capital, with its fabulous Bamford Spa and the most spacious suites with the largest outdoor terraces of any hotel in London. But the hotel has really upped the ante with its latest restaurant, The Garden at The Berkeley, so much so this fabulous summer terrace restaurant will now stay open to the end of September for both lunch and dinner. The Berkeley's impossibly charming General Manager, Knut Wylde, tells us what makes this urban cocoon so alluring, 'The Garden at The Berkeley gives Londoners exactly what they have been longing for after months of lockdown and cooking at home – simple and delicious food, a relaxed style of service and a magical setting that we hope transports you to European summer evenings. And, dare I say, a little glimmer of normality.'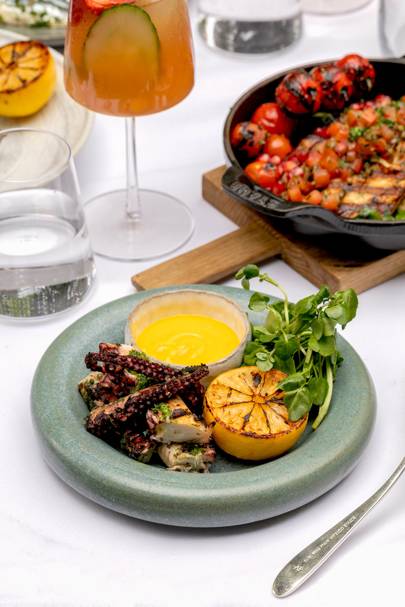 And The Berkeley certainly delivers. With an atmosphere of quiet exclusivity, it's like a little Provençal oasis on Wilton Row, romantically lit with lanterns, festooned with lights and candles and swathed with olive trees and lavender, which has been drawing an elegant crowd on balmy summer evenings for its intimate and informal vibe. The menu is as divine as the setting, where you can feast on warm sourdough with confit garlic and charred vine tomatoes, giant chargrilled prawns and T-bone steaks dripping with smoked shallot butter and chimichurri and a delightfully smoky octopus with lemon and garlic saffron aioli, not to mention a memorable sizzling saganaki with pomegranate and tomato salsa – all cooked outside on Green Egg barbeques.
In these 'new normal' times, The Garden at The Berkeley is a model of what a glamorous dining experience should be: transportative, beautiful, incredibly comfortable, with delicious food and the slickest service. Book now. the-berkeley.co.uk
The Garden at The Berkeley will close on 27th September. For reservations, contact The Berkeley on 020 7107 8833; [email protected]