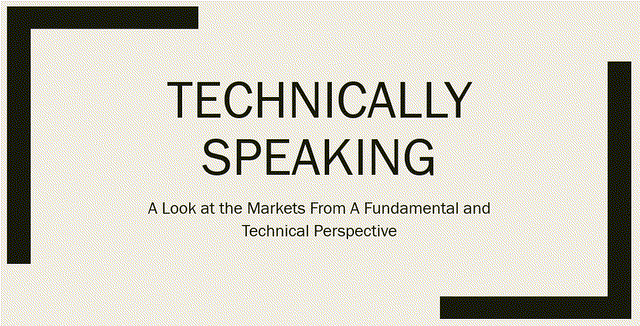 Let's start with last week's fund flows from ETF.com: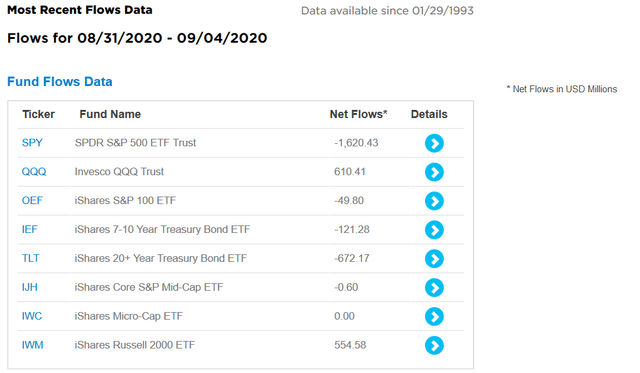 Although tech led the market lower, the QQQ still saw a net inflow of $610 million. That stands in contrast to the $1.6 billion that left the SPY. The treasury market lost funds as well: $121 million and $672 million left the IEF and TLT, respectively.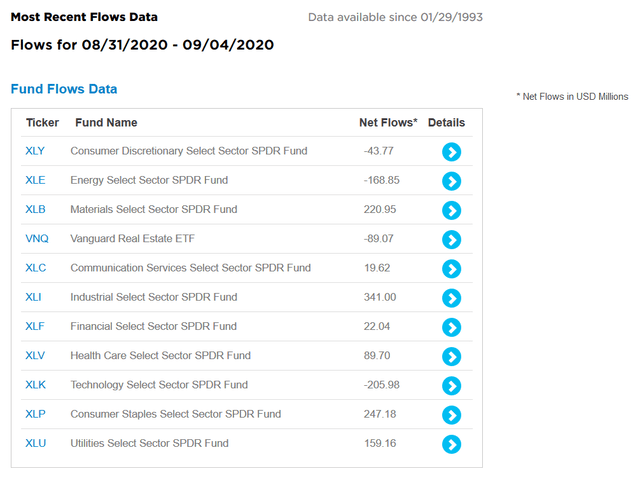 Despite last week's sell-off, only four ETFs lost money: consumer discretionary, energy, real estate, and technology. The largest outflow was $205 million — which is small considering last week's sell-off. Basic materials and industrials continue to attract interest. Consumer staples and utilities also had a net inflow.
State and local governments are facing a very deep fiscal crisis (emphasis added):
Collectively, state governments will have budget shortfalls of $312 billion through the summer of 2022, according to a review by Moody's Analytics. When local governments are factored in, the shortfall rises to $500 billion. That estimate assumes the pandemic doesn't get worse.
This could become a slow-rolling disaster over the next few years if nothing is done to fix the problem. As of now, it doesn't look like Congress will be passing any legislation (emphasis added):
Majority Leader Mitch McConnell (R-Ky.) and other top Senate Republicans have been scrambling to round up votes for a narrow economic stimulus package they could put on the floor and hammer Democrats for opposing. The $500 billion-plus proposal includes $300-per-week federal unemployment payments on top of regular state benefits, another round of funding to aid small and medium-sized businesses, liability protections for businesses, schools and charities, and $105 billion for education, among other provisions.
There is no mention of aid for state governments on this issue. And, it looks like the plan doesn't even have enough Republican support.
But it's unclear whether McConnell has at least 51 GOP votes for the plan. Some Senate Republicans have been pushing for language related to "school choice" programs, complicating the process for McConnell and party leaders. And the measure almost certainly does not have the 60 votes needed to overcome a filibuster.
It's always difficult passing legislation during an election year.
Oil prices are under pressure again: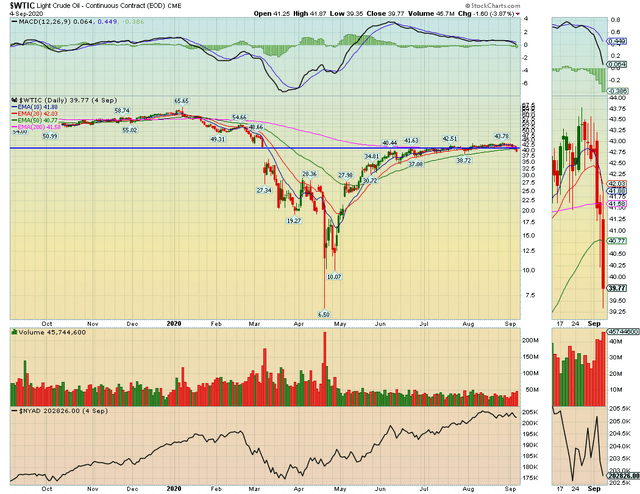 Prices rebounded pretty quickly from the lockdown-caused sell-off. But for the last two months, the chart has been stuck in the lower 40s — a key level from the Spring sell-off (see the horizontal blue line). Last week, prices printed two strong down days on higher volume, sending prices into the upper-30s. This is a net negative for the energy sector.
Let's look at today's performance tables:
To no one's surprise, the long-end of the treasury curve was the only sector that had any gains today. But the fact the gains were below 1% is interesting, potentially indicating there is less bearishness in the market. The QQQ had the largest drop, falling nearly 5%. Other large-caps were also near the bottom of the table.

All sectors were lower. Tech and communication services occupy two of the lowest positions, which explains why the SPY and QQQ
…
Read more