While Democratic presidential nominee Joe Biden heads to the crucial battleground state of Florida on Monday, President Trump is hospitalized at Walter Reed National Military Medical Center after being diagnosed with COVID-19.
After months of mocking the former vice president for his light in-person campaign schedule amid the coronavirus pandemic and ridiculing him for "hiding in his basement" at his home in Delaware, it's now Trump's who is sidelined and forced to postpone events, with a month to go until Election Day on Nov. 3, and with millions of Americans already casting absentee ballots or early voting at polling stations.
LIVE UPDATES FROM FOX NEWS ON TRUMP'S HOSPITALIZATION FOR CORONAVIRUS
And with the clock ticking — and the president trailing Biden in the latest public opinion polls in many of the key battleground states that will decide the White House winner — the spotlight in the presidential election has dramatically shifted once again.
Just two weeks after the death of trailblazing Supreme Court Justice Ruth Bader Ginsburg rocked the race for the White House, giving the president an opportunity to rally Republicans by moving to quickly confirm a conservative justice to succeed the liberal-leaning Ginsburg on the high court, the focus of the campaign has been upended again.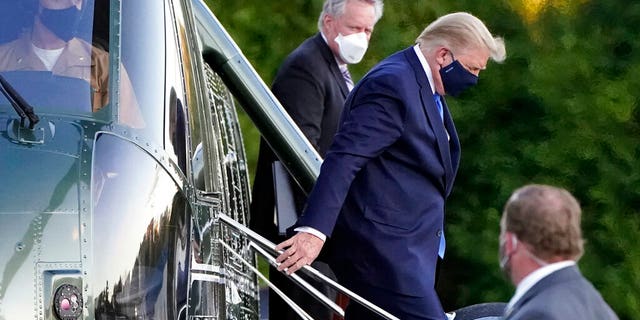 The president's confirmation early Friday morning that he and first lady Melania Trump had tested positive for COVID-19 instantly put the focus of the White House race firmly back on the coronavirus and the Trump administration's efforts to fight the pandemic. That was further heightened hours later when Trump was admitted to Walter Reed.
"It's not good news for the president in that the focus is now going to be on Covid-19, and when the focus is on Covid-19 Biden has a 10, 11, 12-point advantage," veteran Republican pollster and communications consultant Frank Luntz said on Fox News' "The Daily Briefing with Dana Perino."
Luntz stressed that "the economy is Donald Trump's strength, and the fact that he can't get out there now is going to be a challenge for the campaign."
"Fox News Sunday" anchor Chris Wallace agreed that "the coronavirus and the president's handling of it is going to the top of the agenda."
Wallace, who moderated Tuesday's first presidential debate between Biden and Trump, spotlighted on "America's Newsroom" that the pandemic "becomes the most important issue. … The general feeling on some peoples' part is that the president hasn't been cautious enough and that Biden has been too cautious. That's going to be an issue now going forward."
The pandemic swept the nation in February and March. Two weeks ago, the nation passed another grim milestone, as more than 200,000 COVID-19-related deaths were recorded, with than 7 million infections confirmed across the country.
Over the past
…
Read more