Moderate Democrats, especially those in swing districts, have been pressuring House Speaker Nancy Pelosi to pass another coronavirus relief bill, signaling that blaming the Senate Republicans and the White House for the inaction isn't flying back home with their constituents who need help.
One of the boldest efforts of revolt came Tuesday when the bipartisan Problem Solvers Caucus revealed their $1.5 trillion coronavirus relief plan, with 25 Democrats breaking with their leadership and joining 25 Republicans on a compromise plan.
Rep. Max Rose, D-N.Y., was among the backers of the plan and said his frustration with leadership's failure to make a deal pales in comparison to the frustration of his constituents needing help. It's been four months since the House passed its $3 trillion HEROES Act — which died in the GOP-led Senate — and now Rose and fellow frontline Democrats have been urging House leadership to put another bill on the floor that could actually become law.
BIPARTISAN LAWMAKERS OFFER CORONAVIRUS RELIEF SOLUTION IN EFFORT TO BREAK LOGJAM
"The pressure is loud and forthright and it is bipartisan in nature," Rose told Fox News of the urging on both GOP and Democratic leadership to move a "real" bill. "Because that pressure is reflective of where the American people are. They are sick and tired of politics."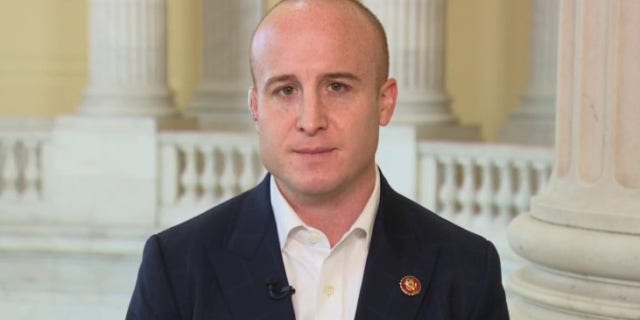 "To the leadership, we said this very simple message: It's time for you to stop playing games. Let's stop the charade. Let's stop this stupidity. Let's put the country first."
The Problem Solvers' effort was designed to break the logjam on stalled coronavirus talks between Pelosi, Senate Democratic Leader Chuck Schumer, D-N.Y., and the White House. Instead, it met with unified resistance from Pelosi and her leadership team.
In a rare move, all eight major Democratic committee chairs put out a joint statement Tuesday rejecting the bipartisan plan, saying it "falls short of what is needed to save lives and boost the economy."
PELOSI TO KEEP HOUSE IN SESSION UNTIL CORONAVIRUS DEAL REACHED AS ELECTION QUICKLY APPROACHES
A national Democratic source said the move by the Problem Solvers Caucus Democrats "undermined" Pelosi's negotiating position in trying to secure a robust coronavirus deal.
"The Problem Solvers Caucus' play put Democrats in disarray and clearly undermined Schumer and Pelosi in such important negotiations," the source told Fox News.
"That statement is highly unusual," the source continued about the swift condemnation from Democratic chairs. "It shows how worried the Democratic leadership is that Pelosi is being undercut."
Democrats took control of the House in 2018 thanks to flipping some 40 seats from red to blue. Those front-line members fighting for another term in office have been among the most outspoken about wanting a deal.
SENATE FAILS TO ADVANCE 'TARGETED' $300B CORONAVIRUS BILL; RELIEF IN LIMBO
Rep. Abigail Spanberger, a Problem Solvers Caucus member who opposed the $3 trillion bill in May and flipped a GOP district, criticized Pelosi's resistance to a smaller coronavirus package.
"What the House put forward months ago isn't moving forward," Spanberger, D-Va., 
…
Read more