For millions of us, homeworking is here to stay for a while longer at least and some anticipate that they will never return to the office. However, many have struggled to find a satisfactory spot in their home where they can get on with their work undisturbed.
So it's not surprising that lots of homeowners have been eyeing up their garden as a potential new working environment.
Research by Direct Line's home insurance arm found that since lockdown began almost 1 million homeworkers have splashed out on a shed or similar outbuilding to use as an office or workspace and a further 1.1 million are planning to do so in the next 12 months.
Companies specialising in shed offices (or "shoffices") and garden rooms have reported a surge in inquiries and orders. That applies to the mass-market retailers, where the most basic summerhouses start at only a few hundred pounds, all the way up to the high-end players, whose often architecturally striking creations can cost tens of thousands of pounds.
The boom in demand means that some designs are out of stock or you may have to wait several months for a delivery.
So what's on offer and how much do they cost?
The average "shed worker" spent just over £3,300 on their garden workspace, according to research from the digital bank Starling, carried out a few weeks before lockdown.
The average size of a garden workspace was 65 sq ft (6 sq metres), according to the survey.
There is a vast array of options depending on your budget and aesthetic taste.
Go online and it's not hard to find small wooden summerhouses for under £500 but something that cheap is only really going to be usable in good weather.
Realistically, you will need to spend a few thousand pounds for something you can comfortably use all year.
At the specialist site Sheds.co.uk, insulated garden rooms and buildings start at £5,694 for a 3×3 metre structure, going up to £9,899 for a 6×4 metre one (these prices include delivery and installation). The walls, floor and roof are fully insulated and the windows are double-glazed.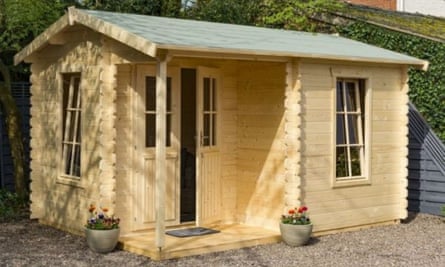 The Rowlinson 4.2 metre x 3.3 metre garden office log cabin from Sheds.co.uk.

Photograph: Sheds.co.uk
At the log cabin specialist Summer House 24, offices start at about £2,400 but installation, insulation and roofing cover typically cost extra. For example, the 3.2×3.2 metre Nora B log cabin is priced at £2,430 but using its installation service costs an extra £850, while a floor and roof insulation kit is £570 and a roof shingle kit is £180. On its large Hansa log cabin offices costing £14,500, installation alone adds an extra £3,500 to the price.
John Lewis sells garden offices and studios made by Norfolk-based Crane Garden Buildings, including a 3×3 metre one costing £8,499, including installation and delivery. It is made in the UK from FSC-certified Scandinavian redwood, features floor-to-ceiling glass panels and is fully insulated, lined and double-glazed.
What is and isn't included when you buy
…
Read more