Mixer grinders are an essential part of Indian kitchen as they help with quick preparation of masalas and purees and recipes like chutneys, shakes and more. For a small family or bachelors, a small appliance with 2 essential jars and power wattage of 500 to 750 watt is sufficient. Smaller appliances will also be an economical choice for most users. If you have just set-up your kitchen or are looking for a fresh replacement of your old mixer grinders, our recommendations will surely help you to make a sound choice. Check them out below:

The Lifelong Mixer Grinder features a 750-watt high-performance motor and flow breakers to ensure a smooth and quick grinding experience. The mixer grinder comes packed with three unique jars that are strong and durable. The set of jars included are blending and liquidizing jar measuring 1.25 litre, wet or dry grinding jar of 0.8 litres and a chutney Jar measuring 0.35 litres. The blades fitted in all the jars are made of superior quality stainless steel and are rust-proof.

This mixer grinder is fitted with an overload safety button and anti-skid feet.

Check out more mixer grinders here.

Featuring a powerful 750-watt motor, the mixer grinder works with an efficiency of 18,000 revolutions per minute provide smooth masala powders and blended purees of items. The Mixer Grinder comes with 3 jars made of stainless steel that measure 1.5 litres, 1.0-litre and 0.3-litre. The jars can be used for efficiently grinding, liquidizing, grinding all kinds of food items in the kitchen. The jars are also designed with anti-slip, easy-grip handles that provide fuss-free handling during the mixing and grinding process. The mixer grinder comes with Tetraflow Technology that makes the process efficient and quick.

The flow breakers on the jars ensure even mixing and grinding.

This mixer grinder features a 500-watt motor that is a perfect match for daily grinding and blending needs. The mixer grinder comes with a 3-speed setting that will allow you to gradually increase the speed of mixing without overloading the motor. The grinder comes with an overload protector saves the appliance from overloads, fluctuations and excessive heat.

The 3 jars of the grinder are made of stainless steel and feature lids are specially designed with rubber gaskets that ensure a tight fit and secure locking.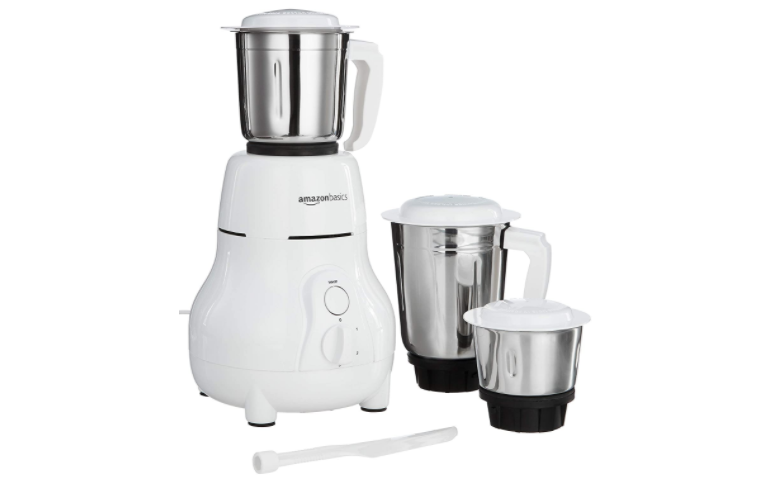 This 500-Watt mixer grinder from Amazon Basics comes with different-sized jars that are perfect for everyday usage. Made with high-quality stainless steel, the jar and the blades are resistant to corrosion and staining. The blades ensure superfine grinding and mixing even at high temperatures. The appliance has a Copper motor that is durable and an overload protector. The jars feature a food-grade silicone rubber gasket on lids ensure a leak-proof grinding and mixing experience.

Silicone is resistant to oil, chemicals and water and will give the jars a long life.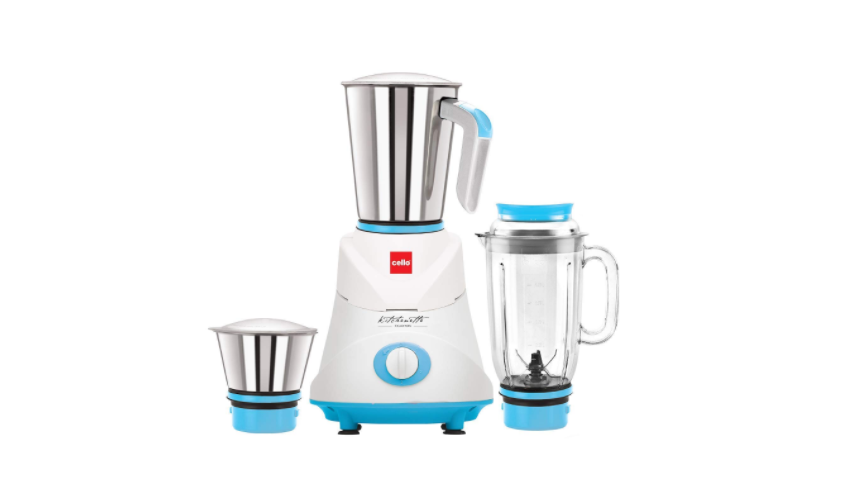 Cello's mixer grinder with 500 Watt will allow effortless grinding of coffee, spices, nuts and more. This multi-purpose mixer grinder is ergonomically designed to have a compact
…
Read more