Twelve days. That's how long I have to finalize the decisions on our master bathroom project, because we now have an actual start date for this project. The fun begins May 10th. So I've been trying to get all of the details worked out in my mind before I meet with our contractor next Monday to go over all of the finalized plans.
A couple of weeks ago, I shared a few wall murals and wallpapers that I could use as a jumping off point in this master bathroom design. You can click here to see the fifteen finalists. I've finally selected the winner, and it's this mural from Photo Wall.
With that decision made, I needed to decide exactly how I want to use it. I took all new measurements of the room to be sure that everything was accurate, and then I used this free online floor plan tool to create a 2D and 3D floor plan of the bathroom.
I started with my original plan of having the bathtub in its own little alcove like this…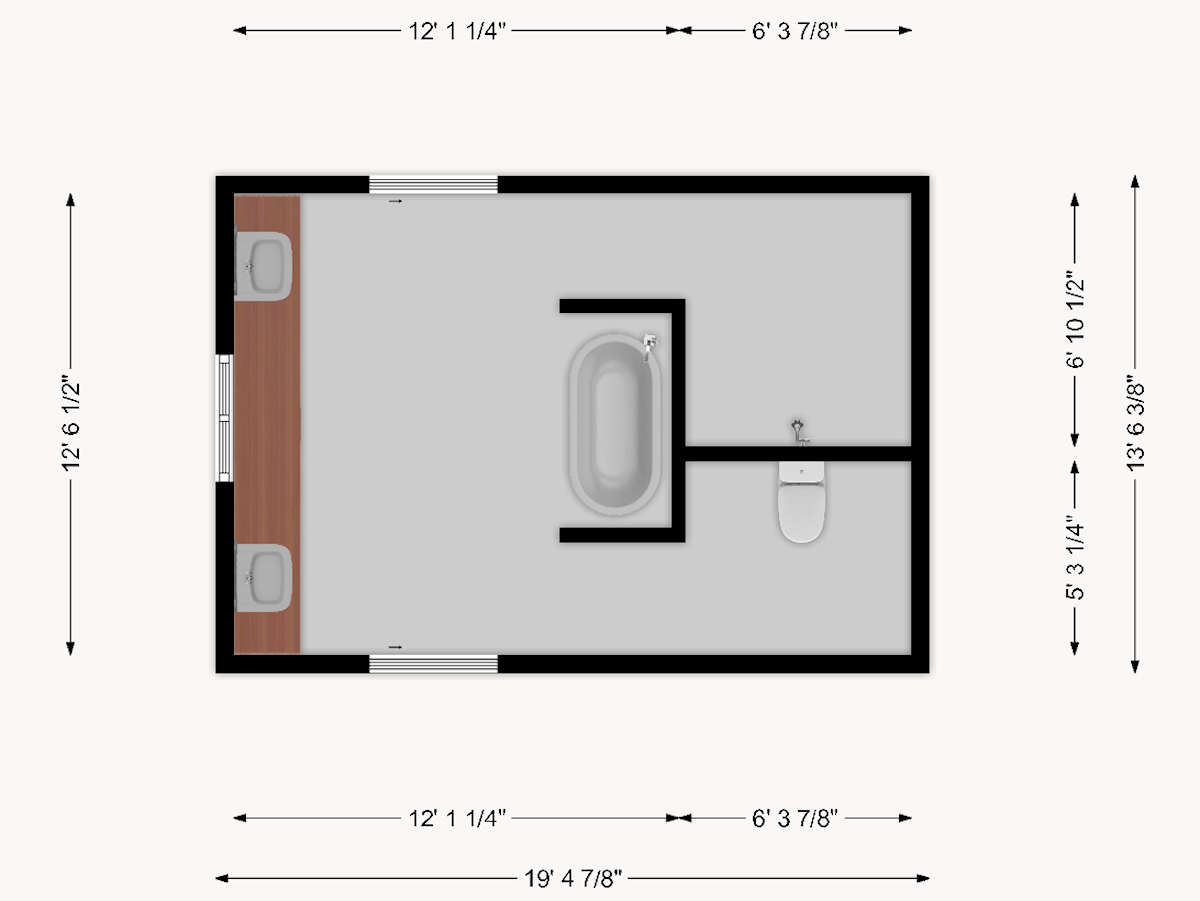 The 3D walkthrough option of that tool makes the perspective look a bit off, but this kind of gives an idea of what that would look like. You can see the long vanity wall (the exterior wall with the window) on the far left. That doorway would go to the master bedroom. And then on the right sits the tub in its little alcove. That area between the tub alcove wall and the bedroom door wall would lead to the shower.
And this is looking the other way towards the door that leads to the home gym.
The view looking straight at the tub alcove is where things get a little funky. It makes the tub look so tiny. But the tub that I'm getting is only five feet wide, so it's really not a big tub (or a wide alcove) at all.
I had imagined that it would look something like this, with the mural on the top of the wall and some wainscoting on the bottom. Don't pay too much attention to the wall color. That wasn't really my focus at this point. That decision can be made later.
Or another option would be to use the wall mural from floor to ceiling. Of course, there would be crown molding and baseboards that aren't shown here.
But on that last post where I shared the fifteen finalist wall murals and wallpapers, a couple of people mentioned that they didn't like the tub alcove because it felt too closed in. I got to thinking about it, and five feet (which is exactly how tall, or rather how short, I am) just isn't much space at all. And since I only have 12 feet 6.5 inches of width to work with in this room, which needs to accommodate a bathtub and two doorways, I could save some precious inches by forgoing the side walls of
…
Read more