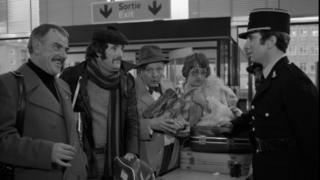 Loud swearing broadcast to the nation following a Gareth Edwards try and panic after a presenter passed out during a live radio show.
Sound engineer Richard Cobourne describes working at Cardiff's Broadcasting House (BH) during its early years as feeling like "pioneers".
"You almost thought, if something went wrong, it would be patched up without anyone noticing," he says.
BBC Wales is leaving its Llandaff home of 54 years for a new city centre base.
Central Square studios in Cardiff go live
Cardiff Central Square – its transformation
It was where a distinctive form of Welsh broadcasting was developed – with the BBC's longest-running drama Pobol y Cwm originally filmed there and the reception area doubling as an airport for cult classic film Grand Slam.
National news output also started taking shape over the first decade and Mr Cobourne joined in 1974 at a time of great expansion, with BBC Radio Wales and BBC Radio Cymru both planned.
His life is entwined with the building more than most.
He met and married "the boss's daughter", Sue, who also worked there, with his father-in-law Harry Hockley, the man sent from London to oversee the building of BH and his mother-in-law vision mixer Beryl Hockley.
One of his first jobs saw him running up and down the touchline with a fluffy microphone recording the sound for a Wales v France game in 1975, and trying to keep pace with Gareth Edwards as he scored.
"I shouted a swear word very loudly in celebration and later had a dressing down from the producer who said 'you didn't have to share that with the country'."
"I went to apologise to [commentator] Bill McLaren, who said 'don't worry, you only shouted what three million Welsh people were thinking'."
He said there was a buzz, with people aware they were setting the daily news agenda for Wales – but described work as "very labour intensive", with around 80 people in the audio department alone.
The C1 studio was "very high-tech", operating seven days a week for shows such as sitcom Terry and June and drama The Talisman, while C2 was used for children's television in the morning, with Wales Today and the Welsh language Heddiw in the afternoon.
"A lot of people ask why are they leaving? She was magnificent. Did a job when broadcasting was evolving on television and radio, no question. But regrettably, it's no longer fit for purpose," he said.
"When it was built, a video edit suite and a small house were a similar size. A camera took an hour to get in the right position.
…
Read more