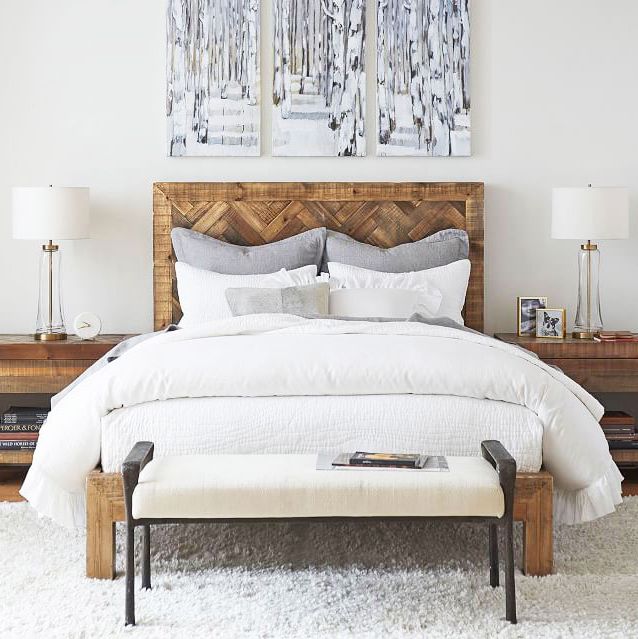 If your bedroom has the space for it, a bedroom bench (also known as an end-of-bed bench) is one of those pieces that can tie a space together while also being quite functional — though not as a place to pile up clothes or laundry that you should otherwise be putting away. Bedroom benches are better used as "a place to set your decorative pillows at night when you need to sleep," according to Joshua Jones, a designer at the online interior-design service Decorist, or "as a halfway point or 'step' for some pets that may have difficulty jumping into bed on their own." Depending on the size of your pet (and how pristine you want to keep the bench), they can even be used as spots for furry friends to sleep at the foot of a bed, or, of course, for human seating, too.
In choosing an end-of-bed bench for your space, you'll want to consider how a bench's material will suit your needs: Upholstered benches, for instance, will usually be softer for pets or people to sit on, while wooden benches will often look a little sleeker or, if they have woven seats, more bohemian. If you don't want your bedroom to look too matchy-matchy, Decorist's Casey Hardin suggests "contrasting the bench with the material of your bed to ensure that it adds visual interest — for example, if you have an upholstered bed, try a wood bench; alternately, a wood bed would pair well with a fabric bench." The size of a bench in proportion to your bed matters, too. Says Jones: "I would recommend a bench around 45 inches long for a queen bed and between 60–65 inches for a king-size bed."
To help you find the right end-of-bed bench for your bedroom, we asked Jones, Hardin, and 12 other interior-design experts about their favorites. Read on for their picks, which we've organized by size (the best for queen beds and king beds) as well as material to help you shop around. We've also noted the benches' weight limits, when applicable.
For queen- and full-size beds, which are typically no longer than 60 inches wide, our experts suggest going for a bench that's between 45–50 inches. All the benches below are within that ballpark (we've noted which are slightly smaller or larger).
Photo: Retailers
"For a smaller bedroom where you want that polished touch of a bench at the end of the bed but can't do anything too bulky," Katherine Tlapa, a creative stylist at online interior-design service Modsy, recommends this woven bench from Urban Outfitters. Made with mango wood, the bench has a seat that's woven from jute, making it minimal and light, according to Tlapa, who adds it has a slightly smaller footprint (it's 42 inches wide).
…
Read more