Adding a bathroom can cost from $5,000 for a simple conversion of existing space to $50,000 and up for a new addition to your house. The national average for a 100-square-foot, spa-like bathroom is over $75,000, so watch your budget carefully. You'll likely recover 60% to 70% of your investment when you sell.
| | Existing Space | New Addition |
| --- | --- | --- |
| Average | $15,000 | $35,000 |
| Low | $5,000 | $20,000 |
| High | $35,000 | $90,000 |
Bathroom (and kitchens) soak up most of the budget. When done properly, you'll upgrade your home, add value and improve your resale potential. But they can get expensive fast. Know when to splurge and when you can add value with little investment with the following cost guides.
| | |
| --- | --- |
| Average Addition | $200 – $300 |
| Luxury Addition | $450 – $600 |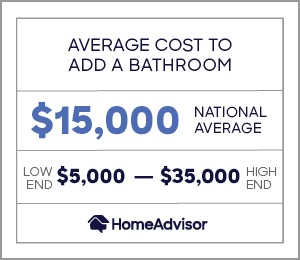 On average, it costs $200 to $300 per square foot to add a bathroom onto your home. Luxury installations might run up to $600 per square foot for a new bathroom addition.
Adding a master bathroom costs $35,000 to $100,000, depending on how luxurious you go. Strategic placement counts, you can save a few thousand if you can tap into existing plumbing lines. Also, consider saving more by converting a small bathroom into a master suite. You'll already have most of the plumbing in place and you'll only need to pour a foundation for a partial addition.
How Much Does It Cost to Add a Bathroom in a Basement?
Adding a bathroom in a basement costs $8,000 to $15,000 on average. You'll save $500 to $1,000 if you have a rough-in drain already in place – typical in newer homes and usually near the main drain line. It's usually cheaper in an unfinished basement since you won't need any demo work and can pull from existing plumbing running to the main floors.
Expect your bathroom to run about 30%-50% of your total basement finishing costs.
Basement Bathroom Plumbing Rough in Costs
Bathroom plumbing rough in costs $1,500 to $4,000 depending mostly on the number of fixtures you want. Sometimes that price includes final hookups as well as the rough in but will require a second trip. Once a plumber completes a rough in, they must wait until the floors, walls and cabinets get installed to come back out and install the fixtures and make connections.
Some other costs you might want to consider include:
| | |
| --- | --- |
| Upstairs Bathroom | $8,000 – $35,000 |
| Laundry Conversion | $5,000 – $12,000 |
…
Read more