Photo: Douglas Zimmerman/SFGATE

There may be no building still standing in San Francisco that embodies the city's working class roots more than Red's Java House.
The beloved shack perched on the corner of Pier 30 has served the city its famous sourdough cheeseburgers and cheap beer since 1955, and despite all the chaos of 2020, it's not stopping anytime soon.
"San Franciscans own Red's," owner Tiffany Pisoni tells me, as we sit out back in the shadow of the Bay Bridge. "It's an institution. I may have purchased it 11 years ago, but it belongs to the city."
That back patio feels like an oasis of normality from another era right now. Situated between the looming bridge and a giant COVID-19 testing center that looks like it's dropped in from a disaster movie, Red's is somehow weathering the storm.
"I thought: We're going to survive this, we're going to show San Franciscans that we're not going anywhere. No matter what." Pisoni says. "It's been an amazing feeling knowing that people are coming out and want to keep this place going."
The tiny diner that veteran Chronicle writer Carl Nolte once called "the Chartres Cathedral of cheap eats" remained open even through the darkest days of the pandemic, that has seen over one hundred S.F. restaurants permanently close.
Red's shifted to take-out through April and May, but now diners can order inside and take their $10.47 hamburger and beer lunch combo to the tables on the back deck over the water.
The restaurant gets its name from the pair of seafaring redheaded brothers who bought the place in 1955. Pisoni became the third owner, after taking over the restaurant in 2009.
"My father, an engineer, was working on Pier One at the time, and he said 'I heard buzz that Red's may be for sale, just go check it out,'" she says. "So I did … and I walked away. A month later he convinced me to check it out again."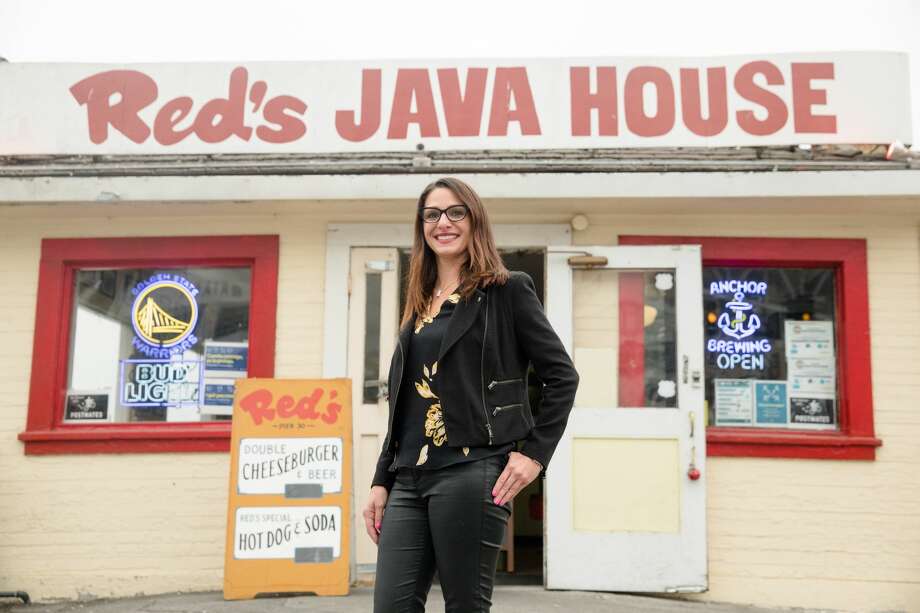 Photo: Douglas Zimmerman/SFGATE

Pisoni was finally persuaded to invest in the historic spot.
"My thought was I could come in and change it, not the menu, but clean it up, and put my own touch on it," she says.
"And did you?" I ask.
"I did not." She laughs. "Within the first month I realized I wouldn't be changing Red's.
…
Read more