located in seiranri – a commercial building complex in binjiang district, hangzhou, PIG design has completed the renovation of a 1,450 m2 area including public walkways and washrooms. mainly targeted at urban young generations, the project combines functionality and novel ideas, generating a space-like interior with apparent influence from concepts of gravity, planets, and black holes.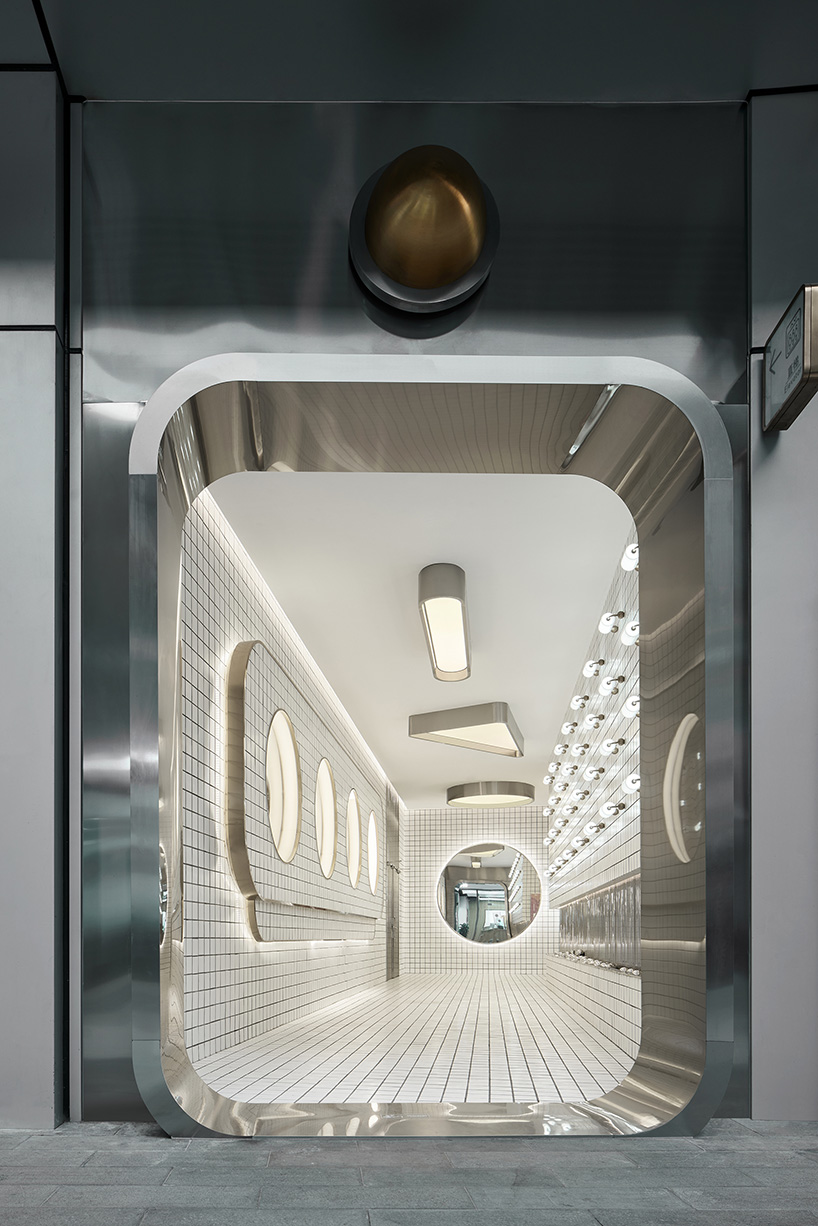 all images by wang fei, shi zheng, qi shuoqian
PIG design has extended the pre-existing 80 m2 restroom to create a large communal area. just like a black hole, the original washroom has engulfed and absorbed its surroundings, eventually forming a broad public space where people can stop and rest. this space contains elevator halls, escalator wells, passages for logistics personnel, as well as actual restrooms. the passageways for customers and those for tenants are separated, and all circulations are optimized.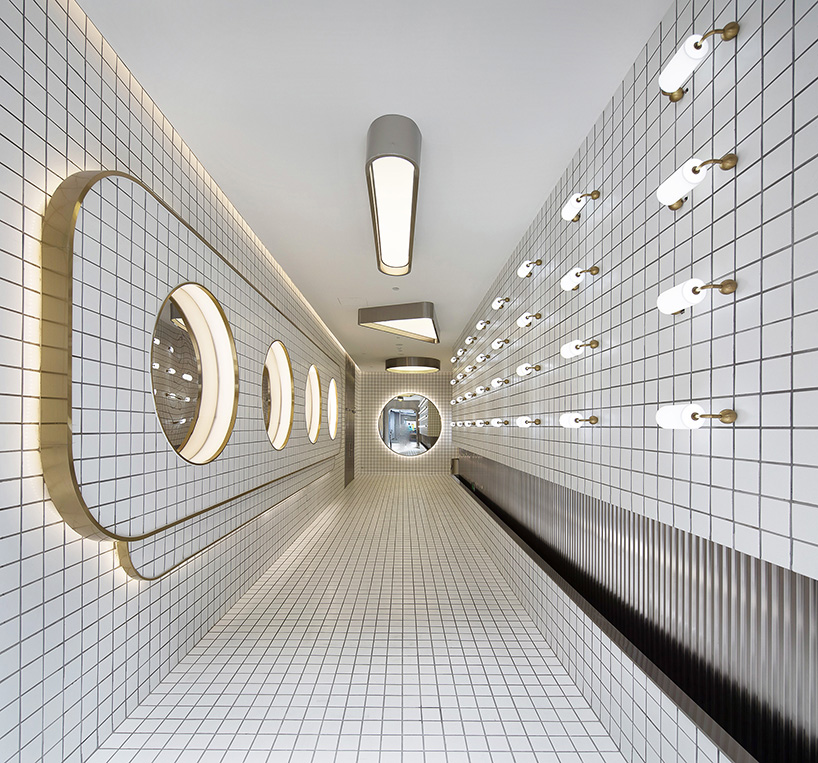 the project consists of three separate floors, and each of them features a different dominant hue. white, green, and purple are respectively the main colors of each level, thereby creating an overall scene that echoes the colorful view produced by friction between planets around a black hole. tiles, a common material that is cost-saving and easy for cleaning and maintenance, are applied to large areas of the space, to give the visual impression of fragments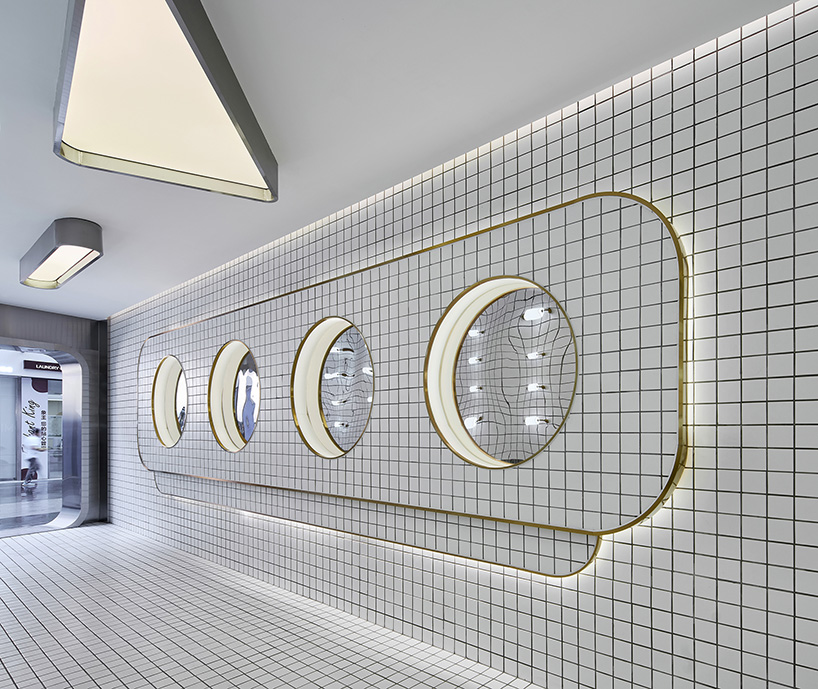 conventionally, a washrooms are private and not usually highlighted in spatial design. however, here, such a space is accentuated by a strong color on each floor, to produce dramatic visual and sensory experiences. public passages become extensions of the restroom areas, inviting people to go deeper into the interior. within these hallways, a series of items that generally exist in restrooms has been placed, such as washing sinks, showers, toilet paper, toilets, and mirrors. although not considered as elegant in an aesthetic sense, these objects perfectly function as conceptual and symbolic visual elements, evoking familiar memories of daily life.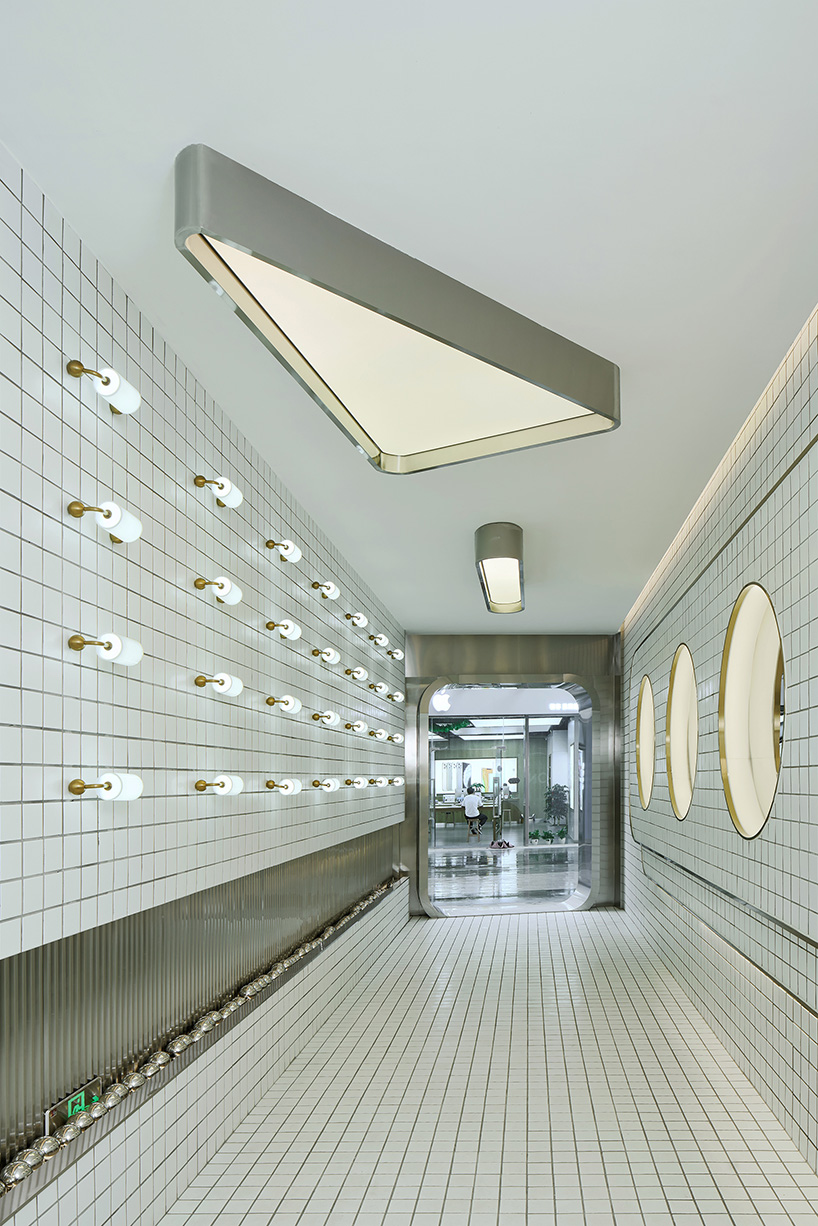 overall, the design seems to generate a story-telling spatial experience, emerging from familiar yet strange scenes. all elements within the interior are magnified, interlaced, and sorted, like planets colliding with each other due to the gravity of a black hole. the holistic use of a single color on each floor provides a unique background while people take the role of the protagonists. through a detailed visual language complete with fragmented shapes and sculptural volumes, the space encourages visitors to look past the virtual boundary, pay attention to daily life elements that are often ignored, and create their own story.