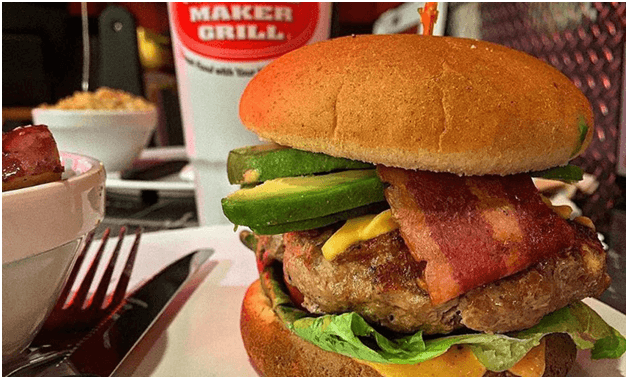 There is a whole ecosystem benefiting from social distancing. Muscle Maker Grill (GRIL) could possibly become the poster child for it.
No one anticipated COVID-19 would have turned our way of life upside down, normal routines such as shopping, gathering and eating out had almost become obsolete. The transition to online ordering took a quantum leap over the past 6 months.
It all started with Domino's (DPZ) when they announced that they were hiring 10,000 workers to keep up with the demand for delivery during the outbreak. As shelter-in-place orders have lifted, sales are recovering and many chains like Chipotle Mexican Grill (CMG), McDonald's (MCD), Yum Brands Inc. (YUM), Starbucks (SBUX), and Shake Shack (SHAK) are trying to get their piece of pie.
These fast food chains are ramping up hiring and investing in mobile ordering and delivery infrastructure, catering to consumers desire to dine at home. Many businesses have struggled during and coming out of mandatory state lockdowns due to the pandemic. But Muscle Maker Grill's "Ghost Kitchen" strategy may be a survival solution for the declining restaurant industry.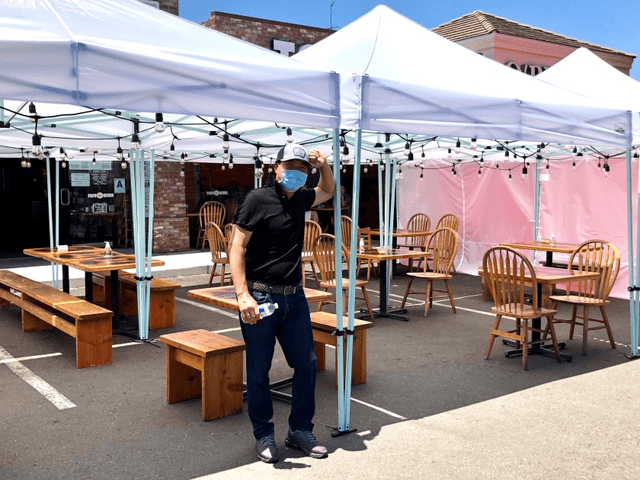 COVID-19 and the Re-Opening Struggle
Covid-19 has thrown a monkey wrench into the mix.
Most restaurants have been struggling to stay afloat and only have options of curbside pick-up and delivery. In order for them to make the same amount of money using the social distancing guidelines, they need more space and that costs more money. Owners have gotten creative and with the help of gazebo and circus style tent canopies along with outdoor tables and chairs, were able to open for business under strict Covid-19 guidelines.
But analysts are particularly concerned about the coming winter, which will eliminate these outdoor seating options for many restaurants, and about the demise of the extra $600 in unemployment benefits that had been available for jobless Americans. Eating is a necessity, but eating out may become a luxury. How long Covid-19 lingers, and the state of the economy will be major factors in shaping the recovering in this sector.
No matter where you look the job market is challenging. The restaurant sector really took a hit during the shutdown, but new stats are optimistically trending higher. Restaurant cooks and managers were some of the most in-demand jobs in June, as fast-food chains like Chipotle and Dunkin' have been staffing up as sales recover. In mid-July, Chipotle announced that it is hiring 10,000 workers. Positions will include "hourly and salaried management positions as well as crew," according to the company's press release. Dunkin' Brands Group Inc. (DNKN) is also on a hiring spree and looking to add 25,000 people to its workforce, including counter staff and managers, according to Reuters.
Meanwhile Muscle Maker Grill is in expansion mode with a cost-effective new strategy to open "ghost kitchens." It has also delayed its expansion plans for dine in restaurants. In February they completed an IPO, raising $7.7 million to execute their growth and turnaround strategy.
Their timing couldn't have been better in regards to raising money, because they completed the IPO two weeks before the major COVID-19 related lockdowns. GRIL is one of the few players in the restaurant sector that has capital to deploy, but the sector ultimately collapsed and took the stock price down with it. As part of their turnaround, they were planning on moving away from franchise owned stores. These stores were poorly run, and the pandemic just accelerated their closure.
They recently announced moving into the Chicago and Philadelphia markets and also have signed an agreement with REEF Kitchens to expand through their neighborhood ghost kitchen model.
Muscle Maker's ability to adapt quickly in a volatile market may be seen as a brilliant move years from now as many restaurants are forced to consider bankruptcy.
In the Midst of COVID-19, we're still able to expand our concepts through ghost kitchens and other non-traditional opportunities. The low cost of entry, quick to market capabilities and opportunity to drive brand awareness makes the delivery-only ghost kitchen model very attractive to our brands. We're looking forward to opening the next nine locations and building our non-traditional portfolio! – Mike Roper, GRIL CEO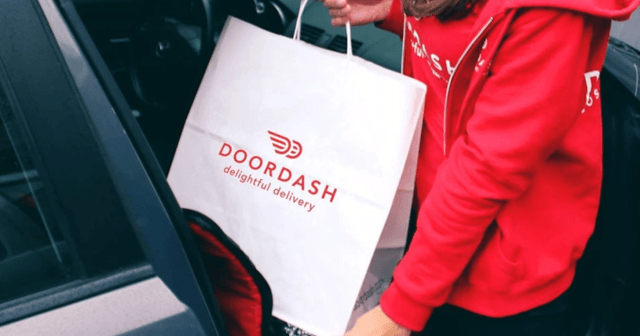 What is a Ghost Kitchen?
Muscle Maker Grill is implementing a new strategy called 'Ghost Kitchens' that has gotten ringing endorsements from Restaurant Business, The New York Times, and The New Yorker that all agree that this is a viable strategy and disruptive concept that could be implemented to ride out the pandemic.
Ghost Kitchens can be shared kitchen space in an existing restaurant, shared space in "off the beaten path" warehouse facilities converted into kitchens, or specifically built locations designed to house many concepts under one roof.
Each ghost kitchen is 200-300 square feet in size with no customer dining areas. Facilities are specifically designed for delivery-only.
There are currently 3 Ghost kitchens under MMG brands – MMG, Healthy Joe's and Meal Plan AF. The new concept will allow guests to place their orders through third party delivery platforms, providing ease of ordering and the option for contactless delivery. Ordering platforms include: DoorDash, GrubHub (GRUB), UberEats (UBER), Postmates, ChowNow and Caviar.
As the demand for delivery increases due to social distancing, many restaurant concepts are looking toward ghost kitchens to expand quickly while meeting the growing need for fast options.
Low build out costs, reduced overhead and waste, and the ability to expand quickly are what make delivery-only ghost kitchens attractive to restaurant brands. Concepts can enter a new market rapidly while growing their brand recognition and affinity. The warehouse style kitchens are efficient in their operational production and promote sustainability and corporate responsibility.
Muscle Maker will be operating three distinct concepts out of one ghost kitchen, further optimizing the low build out costs of each kitchen. For example, each concept appears as a separate restaurant on the ordering apps while the consumer is unaware that the food is being generated from the same kitchen. On the restaurant side, 80-90% of the food overlaps all 3 concepts, making it easy to apply just a few additional ingredients to make each concept work. Muscle Maker Grill is currently operating three (Muscle Maker Grill, Healthy Joe's and Meal Plan AF) concepts from one ghost kitchen, but could expand to as many as 6. The customer wants variety but the business model demands margins. By sharing space and ingredients GRIL can achieve economies of scale.
Mike Roper Undercover Boss
CEO Background
We were impressed with Muscle Maker Grill's CEO, Michael Roper, when we researched his background. Mr. Roper started his restaurant entrepreneurship by being a franchisee of a few Quiznos sandwich shops in the Chicago area. Mike quickly ran up the Quiznos corporate ranks and was key in the company's hyper growth period where at the time they ranked 3rd in fastest growing franchises behind Starbucks and Subway.
Mr. Roper went on to be recruited and ultimately lead the "Tex-Mex" chain Taco Bueno, where his influence and ability was not only able to turn the company around, but position them for TPG Growth, the middle market and growth equity investment platform of TPG, to purchase then-177-unit Taco Bueno for an undisclosed amount in December of 2015.
Roper was kept on to lead the chain and eventually appeared on CBS's hit show Undercover Boss S8E7 which aired April 28, 2017. Mike learned a lot from Taco Bueno, and later left Taco Bueno for a new challenge… Muscle Maker Grill.
Mike joined Muscle Maker Grill in 2018 and brought his fast food chain experience with an understanding of the growing "healthier for you" trends within the restaurant industry. Due to Covid-19, his "ghost kitchen" strategy will be the tell-tale of success as restaurant owners attempt to adapt to the "new normal" of social distancing and state and federal guidelines for businesses in the food industry.
As mentioned, these kitchens will rely heavily on the "delivery only" option from third party apps like UberEats and DoorDash.
Mike being Mike, knowing he had to fully understand every angle of the business, actually became a 3rd party delivery driver and delivered over 300 app-ordered meals. He was proud of his 100% satisfaction rating, but we were most impressed with his time and effort to research every aspect of MMG's new business model adaptation.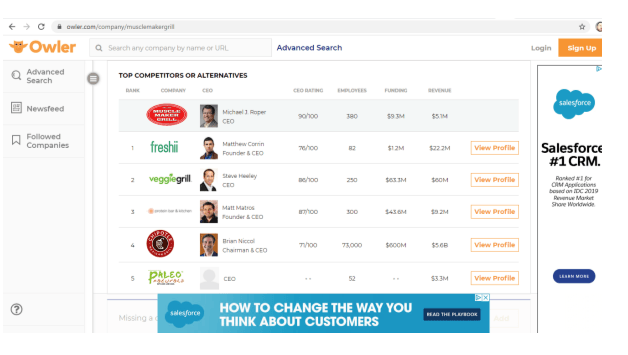 Competitive Landscape
Muscle Maker Grill is one of many publicly traded restaurant stocks, although the healthy niche sector is one that is much less competitive. Owler has eateries such as Freshii, Veggie Grill, Protein Bar & Kitchen, Chipotle and Paleo Naturals as their top 5 competitors.
Freshii is a top competitor of Muscle Maker Grill. Freshii is a public company (OTCPK:FRHHF) that was founded in 2005 in Toronto, Ontario. Freshii has approximately 400 locations and serves a variety of salads and wraps and has locations in both Canada and the United States. Veggie Grill, founded in 2006, is a big rival and is headquartered in Culver, California.
Well known places like Panera Bread and Chipotle Mexican Grill (CMG) are two of the most household name competitors. Chipotle has seen substantial growth over the last few years with them claiming back in 2017 when they announced that they were the only national restaurant brand with no added colors, flavors or preservatives in any of the ingredients it uses to prepare its food. The goal is to serve healthy food has come with a cost.
In 2015, they dealt with multiple outbreaks such as e.coli, norovirus and salmonella which affected their overall image. Additionally, Chipotle Mexican Grill, Inc. had been a big proponent of organic food for most of its 25-year history. But that may be changing as the company has decreased its purchase of organic ingredients in the food served in its restaurants.
In the company's 2016 Sustainability Report, Chipotle said that 50 percent of its beans were either organic or transitional to organic. But the amount of transitional beans is now 25 percent, and none are organic, according to Sustainable Food News. The volume of organic produce used by Chipotle has also decreased. In 2016, 43 percent of produce purchased was organic. In 2017, the volume increased to 49 percent, then fell to 33 percent for 2018 year-to-date. Last, in Chipotle's 2017 Sustainability Report, there is no mention of the word "organic."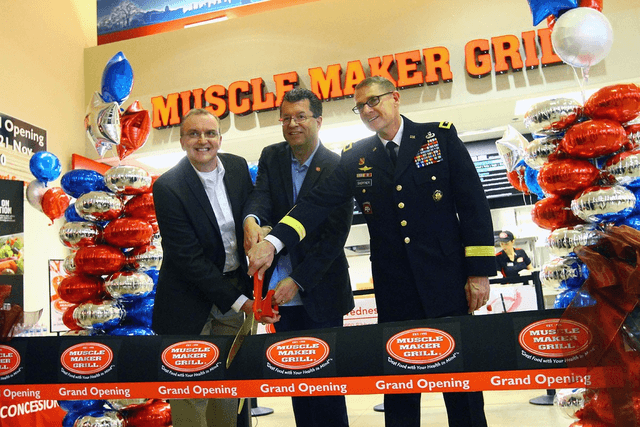 Mike Roper Muscle Maker Grill at Fort Sill
The Muscle Maker Grill Story
At the moment, the company currently has 30 locations with franchises and corporate stores combined. By year end they have a goal in mind to add five University locations, nine ghost kitchens, and will start their "neighborhood kitchen" pilot program with REEF kitchens. Their "ghost kitchen" and "health conscious menu" sets this growing restaurant chain apart from its competition.
FOUNDED IN 1995, Muscle Maker Grill provides its guests healthier versions of mainstream-favorite dishes that taste great, making it easy, affordable and enjoyable to eat healthy. Muscle Maker Grill's diverse menu was created for everyone – fitness enthusiasts, those starting their journey to a healthier lifestyle, and people trying to eat better while on-the-go. Providing "Great Food with Your Health in Mind,"™ Muscle Maker Grill's menu features items with grass-fed steak and all-natural chicken, as well as options that satisfy an array of dietary preferences from vegetarians to the low-carb consumer and guests following a gluten-free diet. Muscle Maker Grill does not sacrifice taste to serve healthy options. Now, guests can have delicious, nutritionally balanced food without regret. More than just food, Muscle Maker Grill restaurants are a friendly, relaxed and social environment where guests can enjoy great-tasting food and engage with fellow health enthusiasts in their area.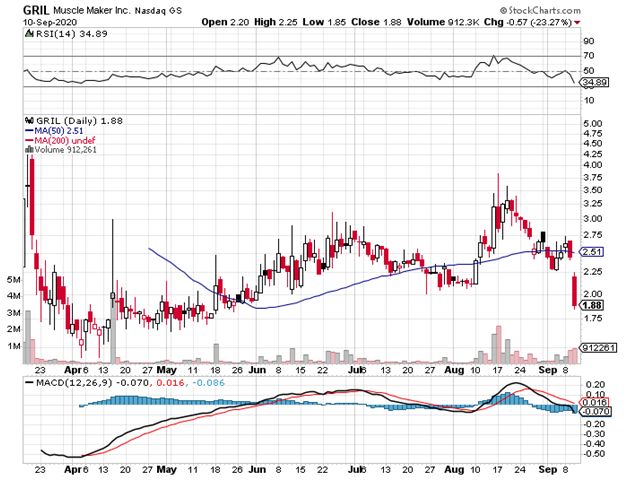 Technical Analysis
The stock clearly hit an intermediate low at the $1.50 level and bounced nicely in April when the stimulus hit. When the stock price broke $2.00 it broke the moving average and started a new intermediate uptrend. Since breaking to the upside it recently retested support at $2.00 and rebounded explosively on the heels of positive news.
Right now the stock is close to retesting its lows based on message board chatter of a recently announced amendment to the S-1. They are raising money to fund their growth initiatives and hope to raise another $7.0 million over the course of the coming year. There were also form 4 filings by selling insiders, and that typically has a negative connotation, but they were actually voluntary returns of stock for share cancellation. It's highly likely that investors sold first asked questions later. The recent selling is indicative of a climactic selloff and represents a technical buying opportunity with downside. Long term support is sitting at $1.50.
The 14-day RSI score is 35 and that suggests that the stock is now oversold. We could see higher levels once investors realize owners haven't sold more shares and there is no immediate share issues that may pull the stock lower.
Muscle Maker Grill has fallen recently on restaurant closures and concerns about their debt. Although they have just recently begun their ghost kitchens, their overhead cost per revenue should be significantly curtailed as well as their cash burn, lowering their need for debt for operations and expansion. Any additional closures are expected to be offset by ghost kitchens in the future giving them an expanding geographical client base in which to further grow. I believe this model exemplifies a growth strategy versus the broader restaurant market faced with consolidation and shrinkage.
Financial Analysis
Muscle Maker Grill raised $7.7 million during their IPO. They currently have $3.1M in cash with $3.5M in total current assets. This should be enough to implement their expansion plans. The IPO also eliminated most of their convertible debt. Their convertible note balance was $100,000 plus $21,031 in accrued interest as of June 30, 2020. This was left over from a default judgement in 2018.
Like most restaurant related business, they were not immune to the pandemic dilemma, as their recently announced financials reflect. Q2 revenue declined from $1.38M to $0.834M, demonstrating a 40% reduction year-over-year as a result of temporary store closings and reduced operating hours. The effect of the downturn was experience across both the company owned and franchise owned locations. Despite the contraction in revenues, they were able to reduce costs year over year from $1.54M to $1.5M. It is widely expected that they will need additional capital to fuel their continued expansion. With ghost kitchens expected to fuel sales growth and improved margins any future financing rounds should be not only justified, but will hopefully allow them to be done on more favorable terms.
The biggest risk in this stock is that it is still too early to definitively tell if this "ghost kitchen" concept will fuel the company, but if Mike Roper's instincts are correct there is going to be a sizeable turnaround. He spoke optimistically about their model.
We believe the delivery-only model being perpetuated by ghost kitchens is a trend that is going to continue to disrupt and to grow share across the QSR (Quick Service Restaurant) sector, and I believe we are uniquely positioned to ride that wave.– Mike Roper, MMG CEO
Investment Summary
GRIL is uniquely positioned to grow a "healthier for you" brand that is not confined by brick and mortar, yet flexible enough to support that strategy as well. The increase in health consciousness is not a fad but a lifestyle choice that represents a growing market opportunity for the business willing to invest. GRIL is going through an exciting news cycle that revealed the ghost and REEF kitchens which could be responsible for exponential growth while in pandemic conditions. New location openings during the COVID-19 pandemic also serves as a testament to the company's ability to adapt to an evolving marketplace.
GRIL had carved out its own niche business, and in a short period of time has the market lead. They have cleverly leveraged relationships with the military and universities to secure prime real estate in a captive market that displaces any future competition. This strategy is very likely a catalyst for even more partnerships with communities of people that want healthier food choices.
The CEO of Muscle Maker Grill, Michael Roper, stands out among his peers. He was rated an impressive 90/100 by Owler.com and is more than capable of bringing this emerging chain to another level based on his track record with Quiznos and Taco Bueno. The company is fortunate to have a hands on CEO with an exceptional pedigree. The old saying is bet on the jockey not the horse. But in this case you get both.
Disclosure: I/we have no positions in any stocks mentioned, and no plans to initiate any positions within the next 72 hours. I wrote this article myself, and it expresses my own opinions. I am not receiving compensation for it (other than from Seeking Alpha). I have no business relationship with any company whose stock is mentioned in this article.
Editor's Note: This article covers one or more microcap stocks. Please be aware of the risks associated with these stocks.