Luxury SUV interiors have stepped up their game but the Lamborghini Urus is on another level. Part 650-hp Italian rocket, part practical family vehicle (yes, really), and 100% opulent, Lambo's first SUV (aside from the Rambo-Lambo, that is) may have a radical, polarizing look on the outside, but what's the interior like?
Here's a closer look inside; interior impressions taken from our full 2019 Urus review.
So, what does the Lambo SUV interior have in store?
You unlock the Urus with a somewhat underwhelming grey fob that's more Audi than Lambo. Access to the interior is good and you settle in highly adjustable seats that are lower than the SUV norm. Nevertheless, I still felt that I was on the driver's seat rather than in it – these are not figure-hugging, sports-car-style bucket seats.
There was seating for four in our Urus, the two rear captain's chairs stealing a little of the Bentayga-beating, 616-liter cargo space offered by the rear-bench configuration. Despite the coupe roofline, there's good headroom even in the back – our 6ft 1in passenger could sit there, just.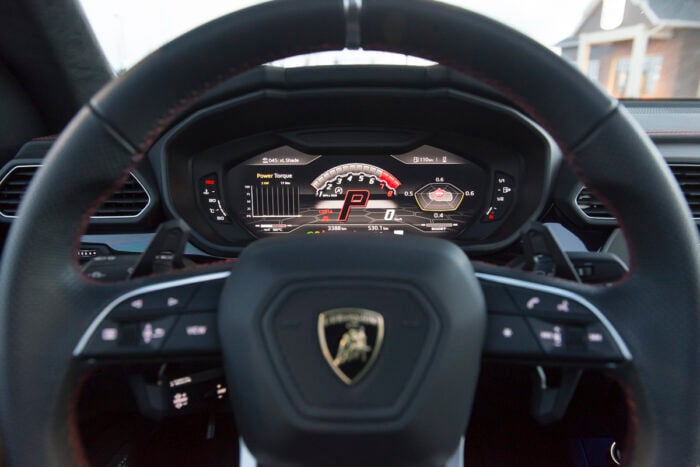 The dashboard is a mixture of Lamborghini extravagance and VW Group practicality. Some of the everyday switchgear and the twin touchscreens have been seen in other Group vehicles, but the central gear and drive-mode selection levers are all Lamborghini. 
The 'Tamburo' (drum) selectors for preset and 'Ego' (pick-your-own) drive modes flank a chunky, aircraft-style lever for choosing Reverse, with buttons for Park and Neutral. Drive must be selected via the right-hand steering-wheel paddle, however, which is a pain when you've reversed out of a space or off a driveway and the steering wheel isn't straight.
It's easy to flick the wrong paddle and carry on reversing by mistake; I didn't hit anything, but felt like it was only a matter of time before I did.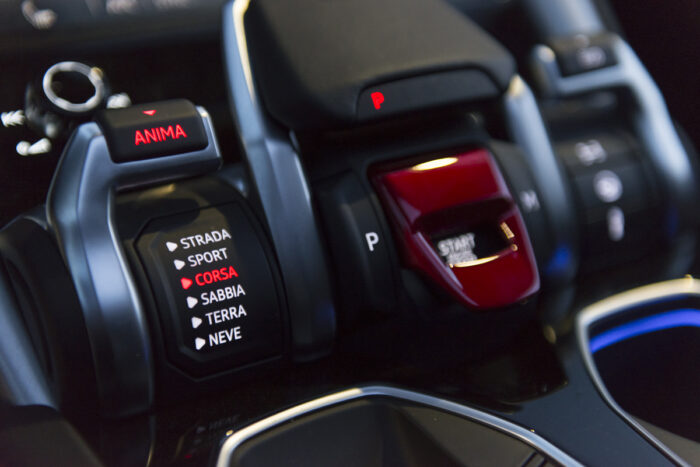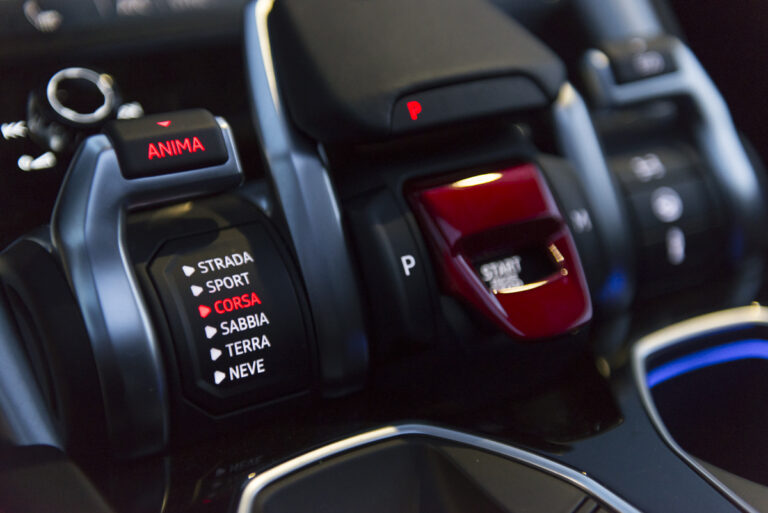 The hexagonal and Y-shaped design cues continue in the cabin. They are part of Lamborghini's design identity, but some might feel that they are overused in the Urus.
Build quality is at the level you'd expect for the cost of the car, but there are some trim material choices, particularly in the doors and around the centre console, that don't live up to the price. They may have been chosen to save weight – the Urus is 80kg lighter than an Audi Q8 V6 and around 190kg lighter than a Bentayga V8.
Taller drivers will notice that the floating centre console is excessively wide, with insufficient padding for your knee.
Urus interior options and upgrades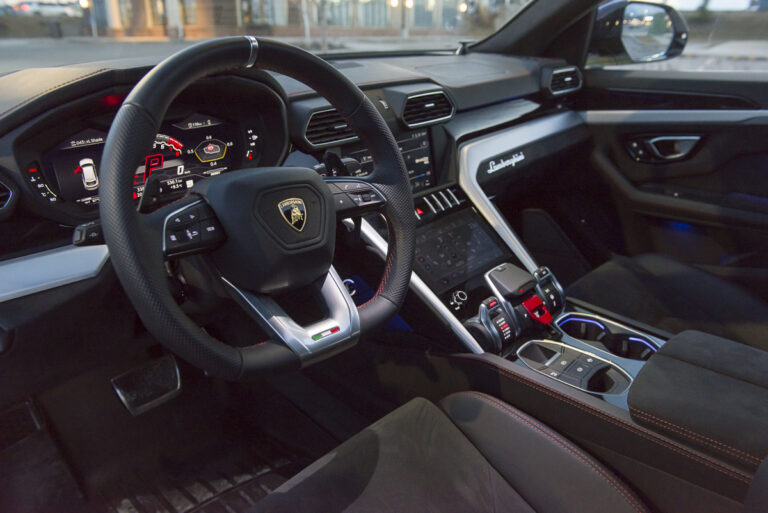 There are plenty of options with which to personalize the Urus's interior, for a price.
The test vehicle's black Alcantara seats also had the contrast stitching and embroidered Lamborghini shield on the headrests. There were floor mats with leather piping and double stitching and an attractive ambient light package.
In a typical winter, you'll probably want the heated, multifunction steering wheel with perforated leather inserts but might be able to live without contrast stitching on the wheel.
Also fitted to our car was the optional Bang & Olufsen 3D audio system. B&O's sound engineers are said to have spent over 400 hours fine-tuning the 21-speaker system for all seating positions and driving conditions.
It's pricey, but it sounds great and it's hard not to get excited about the way the specially designed speakers rise out of the top of the instrument panel on start-up.
2019 Urus interior pictures: