(Image source)
Home improvement stocks have been all the rage since the March bottom. Consumers have spent enormously on things like furniture, appliances, paint, and what matters for our subject here, flooring. Consumers have held up much better through this recession than many – including me – thought they would at the beginning of this pandemic. That has seen companies like Floor & Décor (FND) accrue huge benefits, not the least of which has been a higher share price.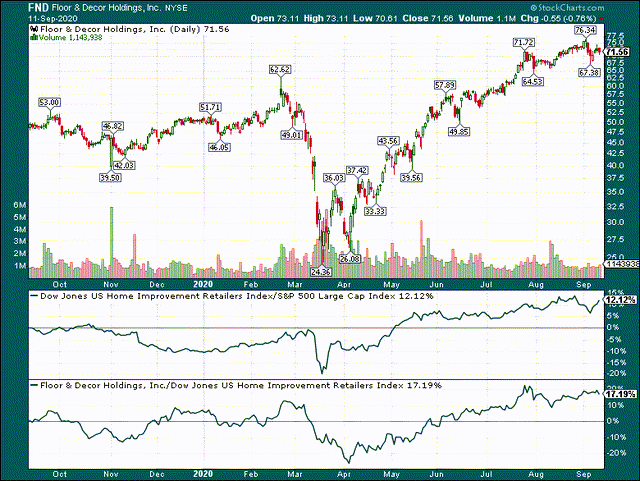 FND tripled from the March bottom to the end of August, and has pulled back slightly with the broader market. However, the company has proven it is a market leader, and until it is proven otherwise, you have to respect the strength it has shown.
Indeed, if we look at the relative strength panels in the bottom of the chart, we can see that the home improvement retailers have outperformed the broader market this year, and by a huge margin since the bottom in March. That means that even the average stocks in the group have a great chance of outperforming the market.
FND, however, has been very strong against its peer group, meaning it is a stock that is outperforming an outperforming group. If you're looking to buy a stock, buying the best stocks in the best groups is the best way to try and beat the market.
The company's valuation is enormous and it isn't perfect, but the market has spoken, and I think the growth of FND overpowers its relative lack of value.
Growth remains a huge factor
We've seen during this rally that growth is being rewarded in a big way. Stocks with the best growth prospects have outperformed those that don't have it, and FND is no exception.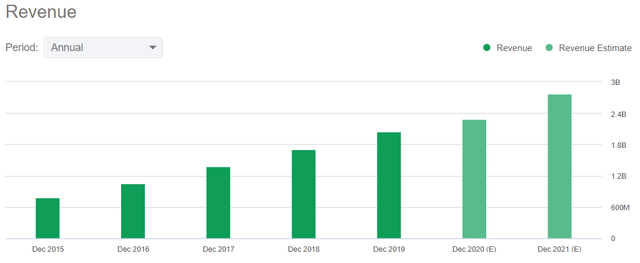 (Source: Seeking Alpha)
Its revenue has flown higher in recent years, as the company has rapidly expanded its store base. FND has capitalized on what was a relatively small footprint, and has entered more markets while optimizing those where it was already present. The result is what you see above, with hugely impressive revenue growth. FND is nowhere near done growing its store base, as the company reckons it will open 13 stores this year and will grow its new store base by 20% next year. It still only has 125 stores nationwide, so there remains a huge runway for future growth in the store base.
Importantly, the company has proven its model can work in a variety of markets and conditions, as it offers a value proposition to consumers. So long as consumers continue to spend their money on home improvements, FND stands to win.
We can see below that the company has produced wildly different comparable sales gains that have helped boost revenue in different amounts in the past few years.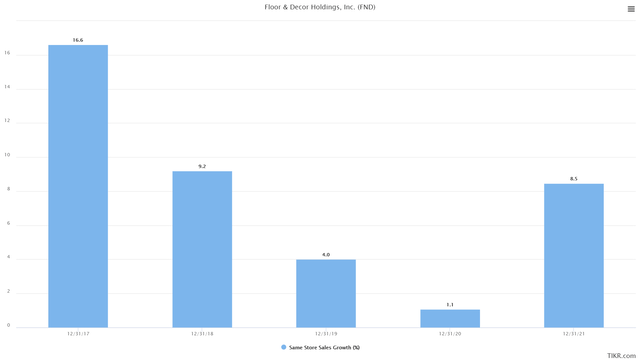 (Source: TIKR.com)
FND's comparable sales decelerated in recent years, but I think it is quite telling that comparable sales are slated to be positive this year. Considering the economic disruption – to put it lightly – that occurred in the early part of this year, the list of retailers with positive comparable sales this year is extremely short. FND should see a strong rebound in comparable sales next year, continuing the momentum it has shown in recent years. Perhaps more than anything, the company's ability to continuously produce comparable sales gains year after year tells you all you need to know.
One thing that could dampen bullishness on FND is its margins, as we can see below.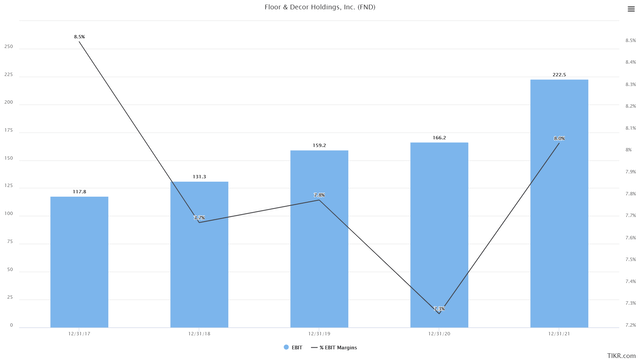 (Source: TIKR.com)
Earnings before interest and taxes should take a breather this year as revenue rises but margins decline. The analyst community has a return to normalized margins into next year, and I think there continues to be margin runway over time. The reason is because there is so much potential for revenue growth that things like back office support and supply chain costs should continue to be leveraged down over time. This is the familiar playbook that countless retailers have used in the past, so there is no doubt it can work. FND has to grow the top line over the years to come, but it has certainly proven it is capable of doing so.
Gross margins have actually risen in the first half of this year, and have done so over time, as you can see below.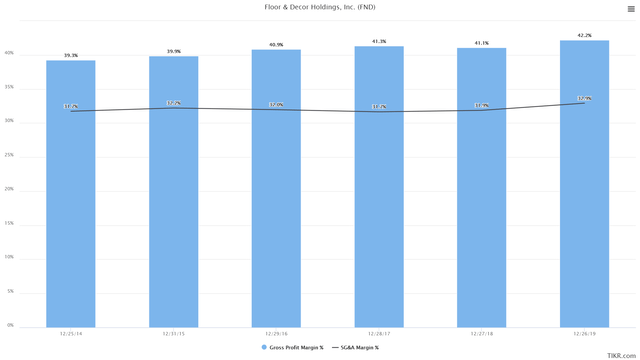 (Source: TIKR.com)
FND has seen pricing power against its cost of sales, and although the gains are small, they are gains, and every little bit helps. The company's problem has been SG&A costs, which have risen in recent years. SG&A costs have moved significantly higher this year, which makes sense given the additional pandemic-related costs that just about every retailer is incurring. However, this should be temporary, and we should be back to some state of normal when it comes to SG&A costs next year. That, even without a boost to gross margins next year, should see operating earnings rebound nicely, and with it, earnings in 2021.
Valuation is a concern
FND is extremely generously valued today – there's no denying that.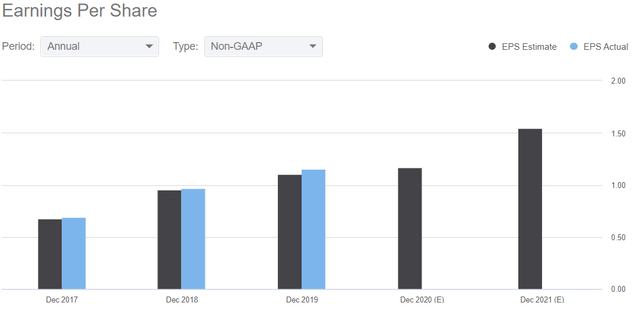 (Source: Seeking Alpha)
Shares are valued at 61 times this year's earnings estimates of $1.17 per share and 46 times 2021 earnings of $1.54 per share. Those are enormous multiples, but projected earnings per share growth for 2021 and 2022, respectively, are 32% and 26%. With huge revenue growth potential as well as the ability for the company to leverage down its SG&A costs, these sorts of earnings growth rates are completely reasonable.
While I usually don't like to pay 46 times forward earnings for stocks, FND has proven it can win, even in a tough environment, and with such a long store base growth runway, I think FND is a buy on this consolidation.
Disclosure: I/we have no positions in any stocks mentioned, but may initiate a long position in FND over the next 72 hours. I wrote this article myself, and it expresses my own opinions. I am not receiving compensation for it (other than from Seeking Alpha). I have no business relationship with any company whose stock is mentioned in this article.