One point.
That is how much Democrat Dr. Cameron Webb, is trailing Republican Bob Good, a self-described "biblical conservative," for Virginia's open 5th Congressional District, according to an internal Democratic poll provided to Newsweek.
The survey suggests that the district, currently held by Republican Rep. Denver Riggleman, who was endorsed by President Donald Trump but was ousted by his party during a June nominating convention after he officiated a same-sex wedding, is becoming increasingly in play for Democrats. Despite Trump winning the district, which stretches from the North Carolina border nearly to Washington, D.C., by 11 points in 2016, Dr. Webb has continued to close his gap with Good.
Riggleman's ouster for the more conservative Good, who is a former athletics official at Jerry Falwell Jr.'s Liberty University, weakened the chances that a Republican would maintain control of the district, according to election forecasters. However, analysts like Inside Elections, the Cook Political Report and Sabato's Crystal Ball still rate the race as "leans Republican."
Newsweek subscription offers >
Dr. Webb is one of 34 candidates that House Democrats are looking to help them increase their majority in the lower chamber.
The internal poll was conducted by the Democratic firm Global Strategy Group for 314 Action, an organization that's committed to electing scientists and STEM professionals to elected office. It showed 46 percent of likely voters backing Dr. Webb while 47 percent went for Good. The survey was conducted among 400 likely general election voters between September 10-14, and has a margin of error of plus or minus 4.9 percent.
Dr. Webb is now within one point of Good thanks to a five-point gain since August, per 314 Action's internal polling. By comparison, Riggleman cruised to re-election in 2018, beating his Democratic opponent by seven points.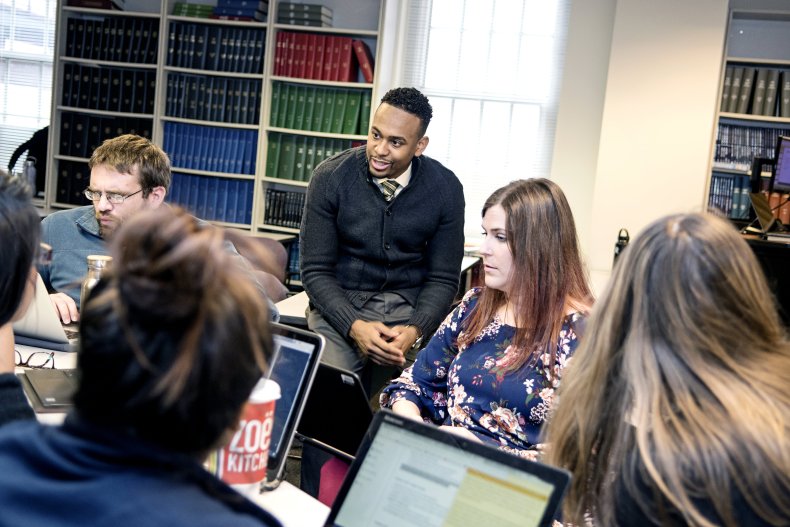 Newsweek subscription offers >
"Cameron's background, taken in its entirety, is very impactful to voters right now," Mia Ehrenberg, Dr. Webb's communications director, told Newsweek.
Dr. Webb, who practices general internal medicine in Charlottesville and teaches at the University of Virginia School of Medicine, held brief White House stints under both Barack Obama and Donald Trump, dealing with health care policy and economic development. He worked on Obama's My Brother's Keeper Initiative during the final six months of Obama's tenure, and on prescription drug prices for the first eight months of Trump's presidency.
The Good campaign did not respond to Newsweek's request for comment as of the time of publication. This story will be updated if a response is received.
Both candidates' familiarity among constituents has jumped in the last month. Sixty percent indicated in the poll that they're now familiar with Dr. Webb while 63 percent are familiar with Good.
In terms of favorability, Good still trailed Dr. Webb. Good has a 33 percent favorable vs. 30 percent unfavorable, while Dr. Webb has 38 percent favorable vs. 22 percent unfavorable.
"Virginians deserve a leader who understands the crisis at hand, and as an active physician and health policy expert, Dr. Webb is the best candidate to meet this moment," 314 Action President Shaughnessy Naughton said in a statement.
In his first congressional campaign ad at the end of last month, Good was accused by Democrats of deploying a "racist dog whistle" against his black opponent.
The ad was reminiscent of rhetoric from Trump and national Republicans. It featured rioting, burning vehicles and violent clashes between protesters and police. The production was overlaid with a baritone theatrical voice who warns viewers to "look past" Dr. Webb's "smooth presentation." It also warns of a "radical" who would "force you into government-run health care" and claims the Democrat "would support defunding the police while crime spikes."
Dr. Webb does not support defunding the police, and has said he supports various reform efforts.
"Voters can see through Bob Good's dog-whistle rhetoric on the campaign trail and his attempts to hide his career as a predatory lender," Naughton added.