There's English designer Matthew Hilton, who despite being globally renowned after 30 years in the trade, retains his HQ in an old workshop in South London. And rising British star Lucy Kurrein, who handcrafts her own prototypes in her studio in a creative enclave past the East End. (She works with independent manufacturer Molinari to produce pieces such as the sculptural leather Otto sofa and armchair, based on the shape of a baseball mitt.)
Paris-based Belgian designer Eric de Dormael handcrafts his brass wire lighting first as pieces of jewellery, tiny enough to fit in the palm of his hand. Once satisfied, he works with French manufacturer DCW éditions to scale them up to room size.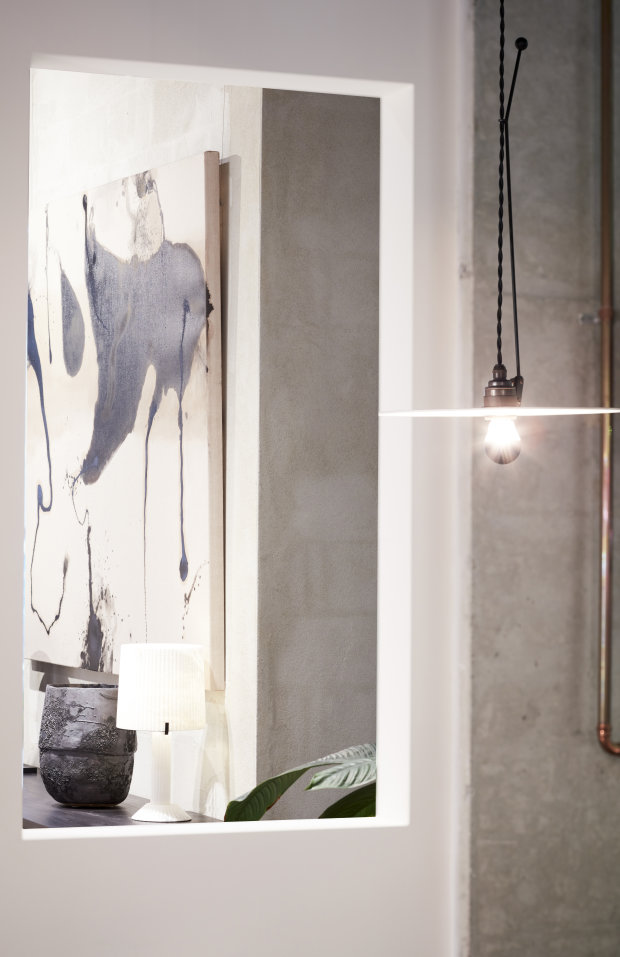 The latest addition to the Spence & Lyda stable is Belgian designer Ann Demeulemeester. One of the fashion world's famous "Antwerp Six", fresh out of the Academy of Fine Art, Demeulemeester – along with fellow graduates including Dries Van Noten and Walter Van Beirendonck – rented a van to take their first collections to show in London, in 1986. She stepped away from her cult fashion brand in 2014, ostensibly retiring to tend her rose garden in the grounds of a Palladian-style chateau in the Belgian countryside.
I loved to always put new plates on the table saying, look what I made!

— Ann Demeulmeester
Restless, she began experimenting with clay and then porcelain, installing a kiln in the basement of the mid-19th century property to create tableware for herself, photographer husband Patrick Robyn and those lucky enough to be invited over.
"I loved to always put new plates on the table saying, look what I made, but I never created any of them with the view to making them available commercially," she told me a year ago, just as local brand Serax was about to launch an extensive collection of her work – crockery, but also fine glassware and robust steel cutlery – to critical acclaim.
Demeulemeester also designed lighting, initially at the behest of Robyn, she explained recently by phone.
"While I was working on the crockery Patrick asked, 'Could you make me a large disc in porcelain, very sharp because I want to illuminate this or that part of the house?' I said, 'OK, I can try.' But then, he wanted it in bone china, it had to be really thin, to be translucent. So I began experimenting and finally came up with the disc.
"Then Patrick suggested the base of the bulb should be black whereas most commercial bulbs of this sort have silver bases. So he painted one black, and we took that to Serax, which had it made. We worked with a local smithy to make the fixture which pivots by a single screw. It is very simple, but I think very beautiful."
She has several versions of the fitting (appropriately called "Eclipse") as wall sconces throughout the house. In fact, the couple lives with the entire homewares collection.
There are the "Lou" table lamps, composed of fine porcelain "ribbons" – a Demeulemeester trademark from her fashion days – hung asymmetrically as a shade. ("I make the porcelain as liquid as paint, and brush the sections onto a surface to be fired," she explains.) A gaggle of "Luna" lamps – some hung as pendants, others as sconces – are tilted at roguish angles, their discs pivoting on an ingenious flex and counterweight system. "Gilda" is a slightly louche suspension lamp, with porcelain blades that tinkle seductively in a breeze.
Once a place is assigned to each piece of this singular homewares collection in this most "peculiar" (in the Lydian sense) house, is that where it remains?
"They've been in the same spots already three or so weeks, which is a long time around here," laughs Demeulemeester. "And that's just because Patrick is working on a project so his attention is elsewhere. I'm sure we'll keep moving things around. After all, it is a home, not a museum."
Meanwhile, David Clark says if there has been one positive takeaway from COVID-19, "it's that everyone has had time to reappraise and appreciate their home. It's no longer possible to just see a house as property. It's a personal expression and even a refuge."
And, frankly, that shouldn't seem peculiar at all.
NEED TO KNOW
Spence & Lyda is at 18 Danks Street, Waterloo, Sydney.