Covid: Kitchen fires in south Wales 'up during lockdown'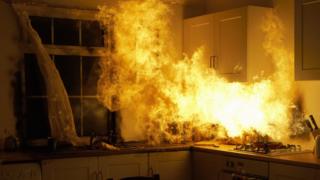 The proportion of kitchen blazes in south Wales hit a five-year high during lockdown, a fire service has said.
They led to 42% of house fires in April and May, the highest rate over those months since 2014-15, South Wales Fire and Rescue Service said.
During the period, firefighters tackled five such fires a week in south Wales, some "completely avoidable".
Along with "increased demand" on crews they can have potentially "tragic consequences", the fire service said.
And, while the fire service has not released the actual number of home and cooking fires involved, it said there was a 67% increase in blazes caused by chip pans and deep-fat fryers in April and May compared with the same period last year.
Overall, the service said 2019-20 saw a 17% increase on the previous year, which itself had hit a three-year high.
Head of community safety Dean Loader, said: "We attend up to five incidents in any week, some of which are completely avoidable.
"Across Wales, up to 40% of fires start in the kitchen, this places an increased demand on our firefighters and could potentially lead to tragic consequences on our communities."
South Wales Fire and Rescue Service issued the following tips on fire safety in the home:
Never leave your cooking unattended
Don't leave children alone in the kitchen when cooking. Make sure you keep matches and saucepan handles out of their reach
Make sure saucepan handles do not stick out – so they don't get knocked off the stove
Keep tea towels, cloths and clothing away from the cooker and hob, away from heat and flames
Keep electrics (leads and appliances) away from water
Hot oil can ignite easily, use a thermostat-controlled deep-fat fryer – they stop the fat getting too hot
Don't fill a chip pan or other deep-fat fryer more than one-third full of oil
Never tackle a pan fire yourself. If a pan of oil catches fire, never use water on it
Avoid cooking if you have been drinking alcohol or are taking medication that may make you drowsy or tired