The cost to paint a small bathroom is minimal if you're only updating the wall color. However, the job can become more labor-intensive if you need to paint the ceiling or remove the bathroom fixtures. These extras increase the price of the job significantly. Most bathrooms measure between 30 sq.ft. and 100 sq.ft. The following are the costs, including labor, to paint walls only without removing and replacing accessories and the cost to paint the entire bathroom, including behind accessories.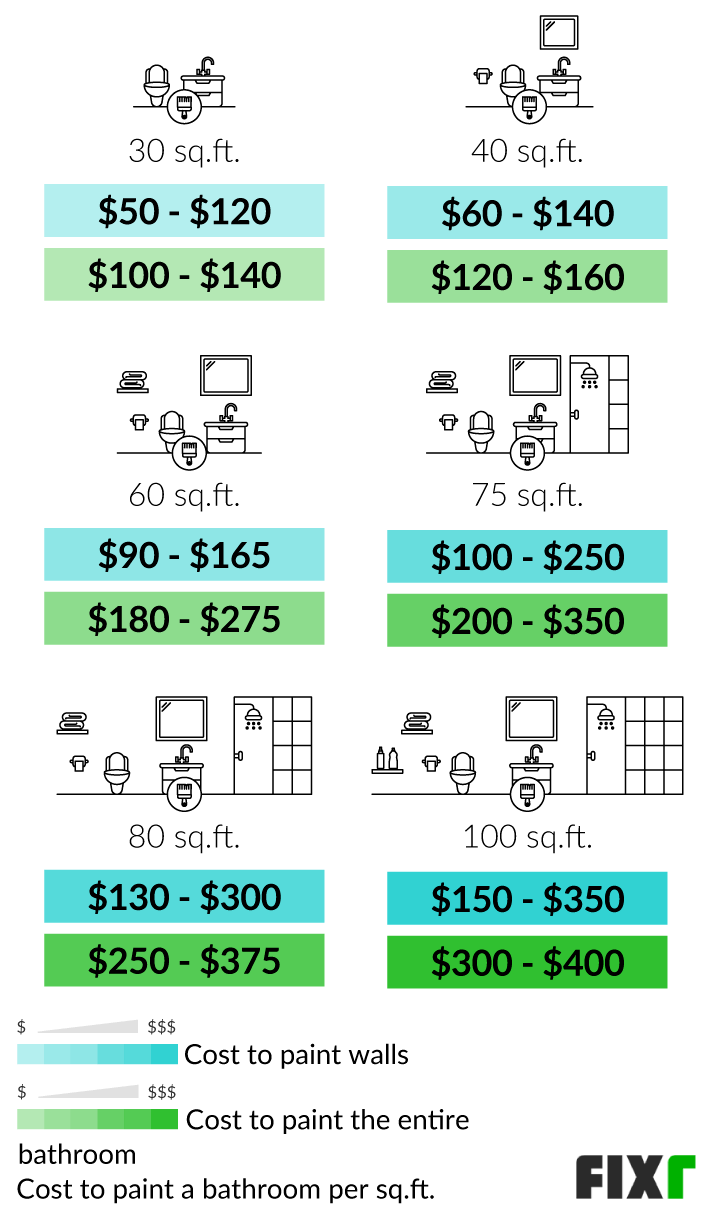 | Size of the Bathroom | Walls Only (Labor Included) | Entire Bathroom (Labor Included) |
| --- | --- | --- |
| 30 sq.ft. | $50 – $120 | $100 – $140 |
| 40 sq.ft | $60 – $140 | $120 – $160 |
| 60 sq.ft | $90 – $165 | $180 – $275 |
| 75 sq.ft. | $100 – $250 | $200 – $350 |
| 80 sq.ft. | $130 – $300 | $250 – $375 |
| 100 sq.ft. | $150 – $350 | $300 – $400 |
Cost to Paint a Bathroom by Size
The contractor may use the size of the bathroom to estimate the cost of painting the space. Along with the size of the bathroom, you'll need to let the professional know if you want just the walls painted or areas that require the removal and replacement of fixtures. To calculate the size, measure the room in inches and then convert the length and width into feet by dividing each total by 12. The following are standard size bathrooms, and the cost to paint them with labor prices included.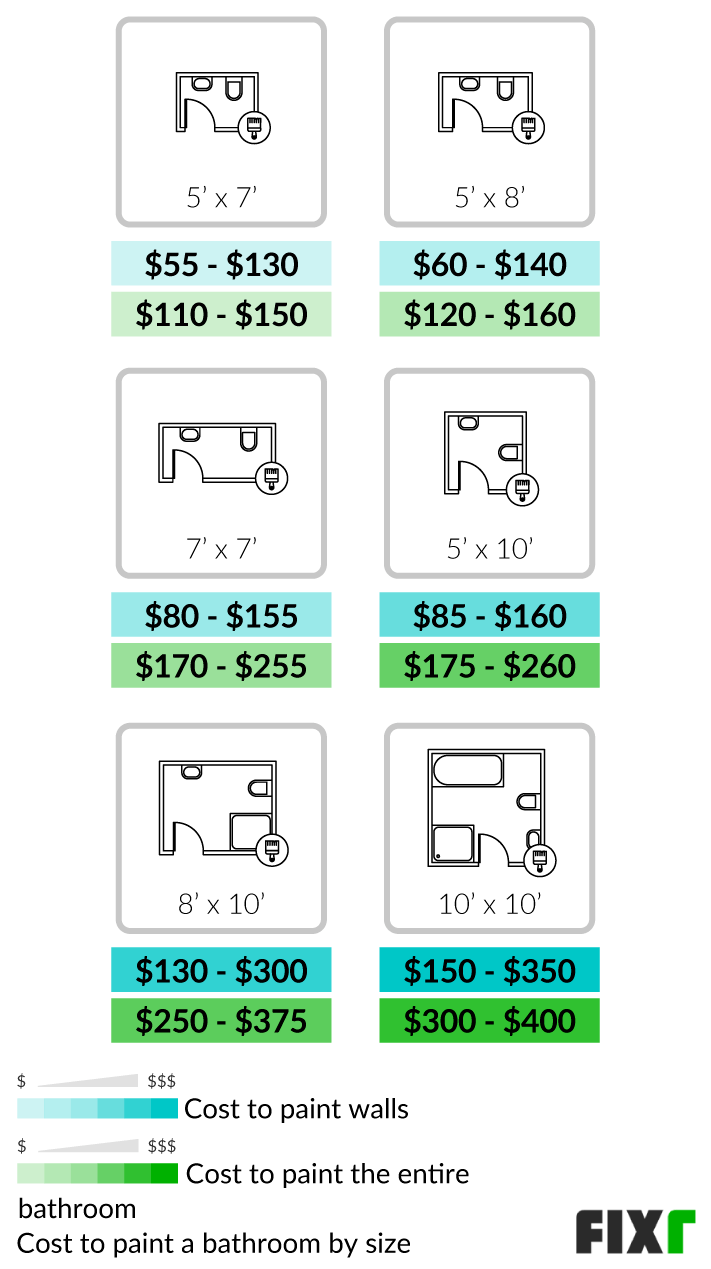 | Size | Walls Only (Labor Included) | Entire Bathroom (Labor Included) |
| --- | --- | --- |
| 5' x 7' | $55 – $130 | $110 – $150 |
| 5' x 8' | $60 – $140 | $120 – $160 |
| 7' x 7' | $80 – $155 | $170 – $255 |
| 5' x 10' | $85 – $160 | $175 – $260 |
| 8' x 10' | $130 – $300 | $250 – $375 |
| 10' x 10' | $150 – $350 | $300 – $400 |
Average Cost to Paint a Bathroom by Type
The type of bathroom you need to be painted determines your final cost for the project. Bathroom types range from a quarter to full. Denotations are based on how many fixtures are found in the bathroom. For instance, a quarter bathroom will only have a single fixture, a half bathroom will have two fixtures, a three-quarter bathroom will have three, and a full bathroom will have four. Bathrooms with more fixtures require additional square footage and will be more costly to paint. The following are the average costs, with labor included, to paint each bathroom based on type.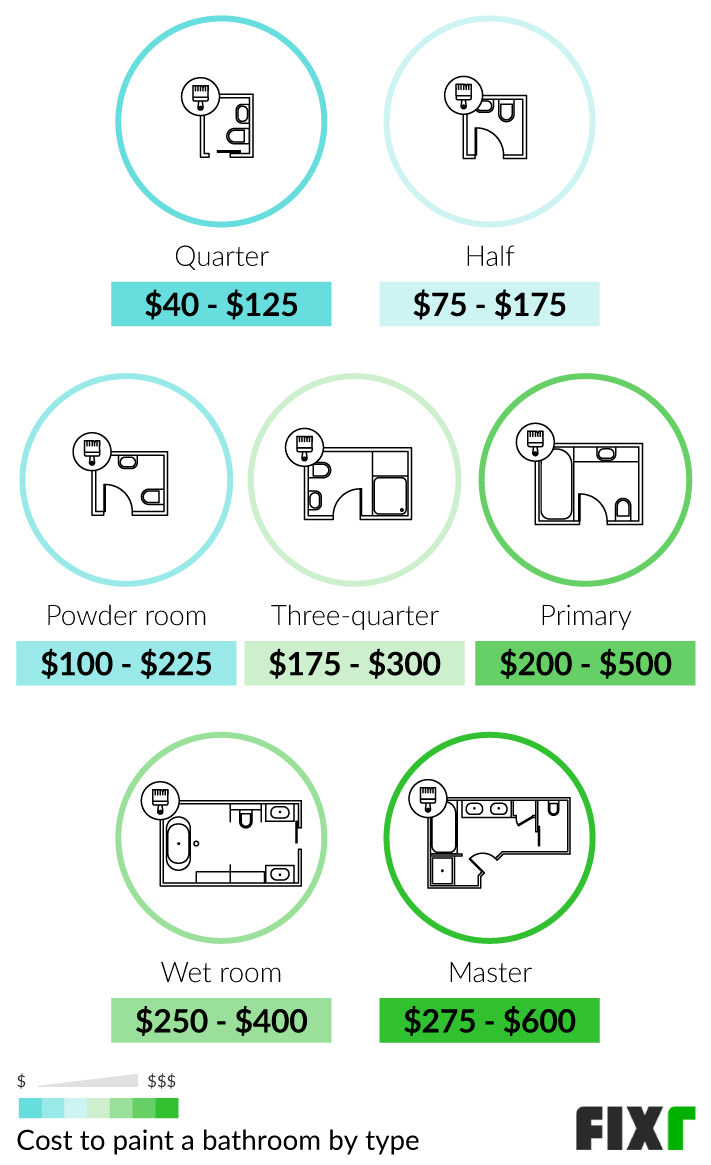 | Bathroom Type | Cost (Labor Included) |
| --- | --- |
| Quarter | $40 – $125 |
| Half | $75 – $175 |
| Powder Room | $100 – $225 |
| Three-Quarter | $175 – $300 |
| Primary | $200 – $500 |
| Wet Room | $250 – $400 |
| Master | $275 – $600 |
Paint a Quarter Bathroom
The average cost to paint a quarter bathroom will be $40 to $125. A quarter bathroom is a rare inclusion in a home but can be an option. Most bathrooms have at least a toilet and sink to provide handwashing. Quarter bathrooms are often considered in areas where an extra bathroom is needed, like a finished basement. A quarter bathroom will have a toilet only. A quarter bathroom may be only 15 sq.ft. since it only needs to fit a single fixture.
Paint a Half Bathroom
On average, you'll spend $75 to $175 to paint a half bathroom. A half bathroom may be known as a guest bathroom. To be considered a half bathroom, you must have at least two fixtures, usually a toilet and a sink or washbasin. In a half bathroom, there won't be a shower or tub. These are space-saving designs and only require 20 sq.ft. in a home. Some half bathrooms may be larger and require additional costs to paint.
Powder Room Paint
Powder rooms cost an average of $100 to $225 to paint. Powder rooms are often designed with guests in mind and as a place to freshen up. They are not considered areas for bathing and will not have a shower or tub. Most frequently, they have a half bathroom setup with a toilet, sink, and vanity. Soaps, towels, and other supplies are typically kept in a powder room. Powder rooms have an average size of at least 40 sq.ft.
Three Quarter Bathroom
A three-quarter bathroom costs a homeowner approximately $175 to $300 to paint. A three-quarter bathroom is between a full and half bathroom. Instead of a tub in the bathroom, there will be the inclusion of a shower stall. Three-quarter bathrooms will include a single sink and a toilet. Three-quarter bathrooms usually require at least 35 sq.ft. to accommodate the shower, sink, and toilet but can be larger.
Paint a Primary Bathroom
To paint a primary bathroom, budget between $200 and $500. A primary bathroom is considered the central bathroom in the residence. This is usually a full bathroom and will be located on the floor outside of the bedrooms. Although a full bathroom, the primary bathroom is not likely to have a separate shower and tub. Instead, you're more likely to find a combination. Depending on the space available, the primary bathroom may have a single or double sink. As far as square footage, primary bathrooms will usually range from 30 sq.ft. to 100 sq.ft.
Wet Room Paint
The average cost for a wet room paint job is $250 to $400. Wet rooms are space-saving bathrooms with a completely waterproof design. Instead of a separate shower area, a wet room has the shower level with the rest of the floor. Wet rooms range from 30 to 35 sq.ft. in size to accommodate the shower, toilet, and sink features. Tiling is often seen in wet rooms, even from floor to ceiling, to avoid moisture issues. Wet room paint jobs may involve hiring a contractor to paint tiles. Moisture-resistant paint could be considered for the walls.
Master Bathroom Painting
Master bathroom paint jobs cost between $275 and $600. A full bathroom or master bathroom will likely be the largest bathroom in the home. This type of bathroom will be the costliest to paint due to the square footage. Master bathrooms are typically connected to a master bedroom and may only be accessed via that room. Features of a master bathroom include a soaking tub, walk-in shower, and double sink. A modest-sized master bedroom ranges in size between 40 and 60 sq.ft. Larger master bathrooms can be anywhere from 100 to 200 sq.ft.
Cost to Paint a Bathroom by Feature
Each bathroom consists of select design features. When you contact a painter, you can discuss whether you want certain items in the bathroom painted. Some painters have the equipment to accommodate your requests, while others may require you to find a specialist in the field. The table below shows items that can be painted in the bathroom and the average cost to update these items with new paint.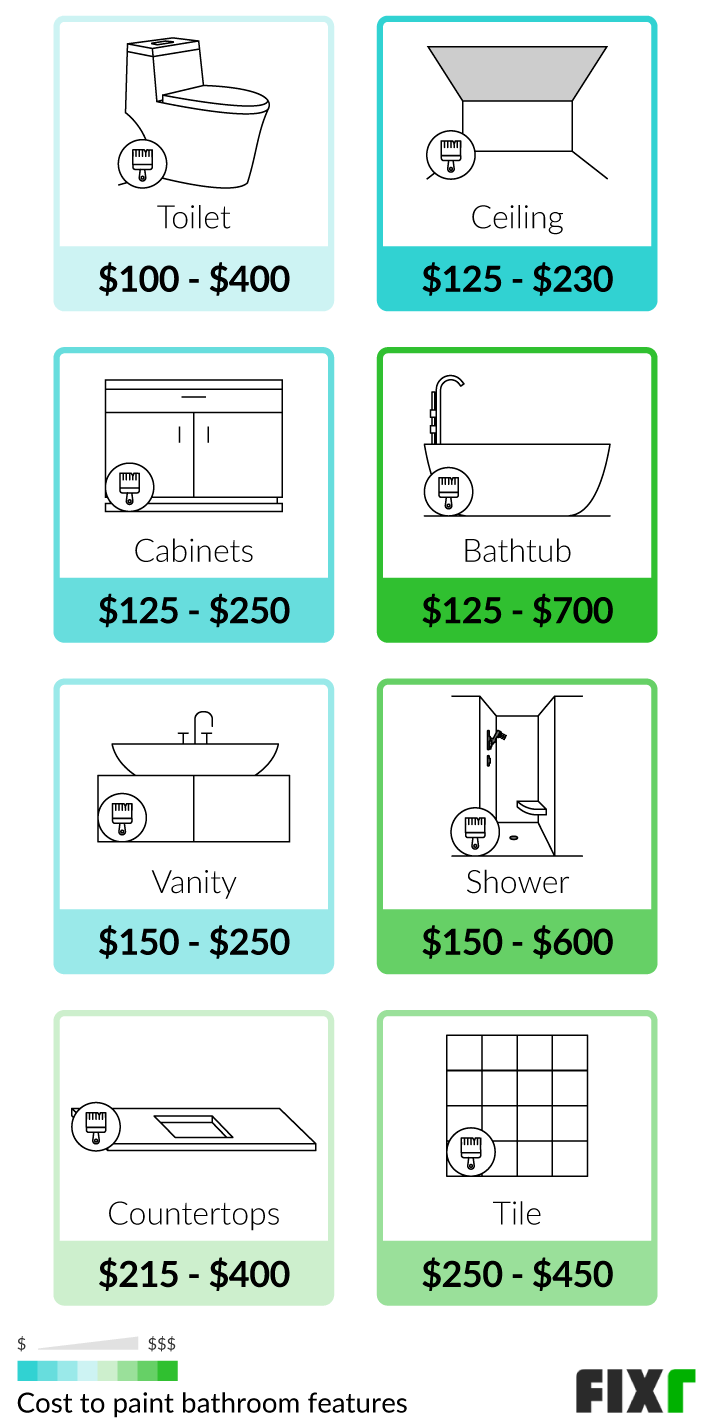 | Bathroom Feature | Cost (Labor Included) |
| --- | --- |
| Toilet | $100 – $400 |
| Ceiling | $125 – $230 |
| Cabinets | $125 – $250 |
| Bathtub | $125 – $700 |
| Vanity | $150 – $250 |
| Shower | $150 – $600 |
| Countertops | $215 – $400 |
| Tile | $250 – $450 |
Toilet Painting
Homeowners can expect to pay $100 to $400 to paint their toilet. Although it's not a popular request, you can have your toilet bowl painted. A toilet first needs to be primed with an acrylic latex primer. Then, the professional can use epoxy paint or spray paint to change the color of the toilet to your preferred shade. This is a specialized job, so you may have to call a few contractors to find someone with the experience to perform the task.
Cost to Paint Bathroom Ceiling
In some cases, you may only need the bathroom ceiling painted. The bathroom size determines the cost of the project, but you can expect to pay in the range of $125 to $230. Bathroom ceilings are prone to mold and peeling paint because of the increased humidity. A primer that blocks moisture is usually put down as a first coat before new ceiling paint is applied. Any holes or imperfections will be repaired before the primer and a semi-gloss finish.
Cost to Paint Bathroom Cabinets
The cost to paint bathroom cabinets will be between $6 and $12 per sq.ft. for an average of $125 to $250 for 20 sq.ft. of cabinets. Painting wood bathroom cabinets may be a project you consider when remodeling that room in your home. For example, instead of replacing the bathroom vanity, you may request that your painter stain or paint the wood or laminate. However, wood cabinets need to be evaluated to confirm that they're in good enough shape to be cost-effective to refinish and paint. Laminate can be sanded, primed, and painted in the same manner as wood cabinets in the bathroom. However, if the laminate cabinets are in poor shape, the paint won't hide warped areas. Enamel paint is most often used in bathrooms because of the high moisture content in the area.
Cost to Paint Bathtub
Painting a bathtub costs anywhere from $125 to $700. Painting a bathtub can give a refreshed appearance to the fixture. Depending on the material, the paint can conceal previous imperfections such as rust, peeled paint, or staining. Before painting a bathtub, a contractor needs to know the type of tub to see if it can be painted and decide what type of prep work needs to be completed. Before a tub can be painted, it will also need to be cleaned thoroughly and sanded. The type of paint depends on the original tub material. It isn't typically recommended to paint solid surface tubs and those crafted from stone resin. The following table shows the types of bathtubs and the average cost to paint each, with labor costs included.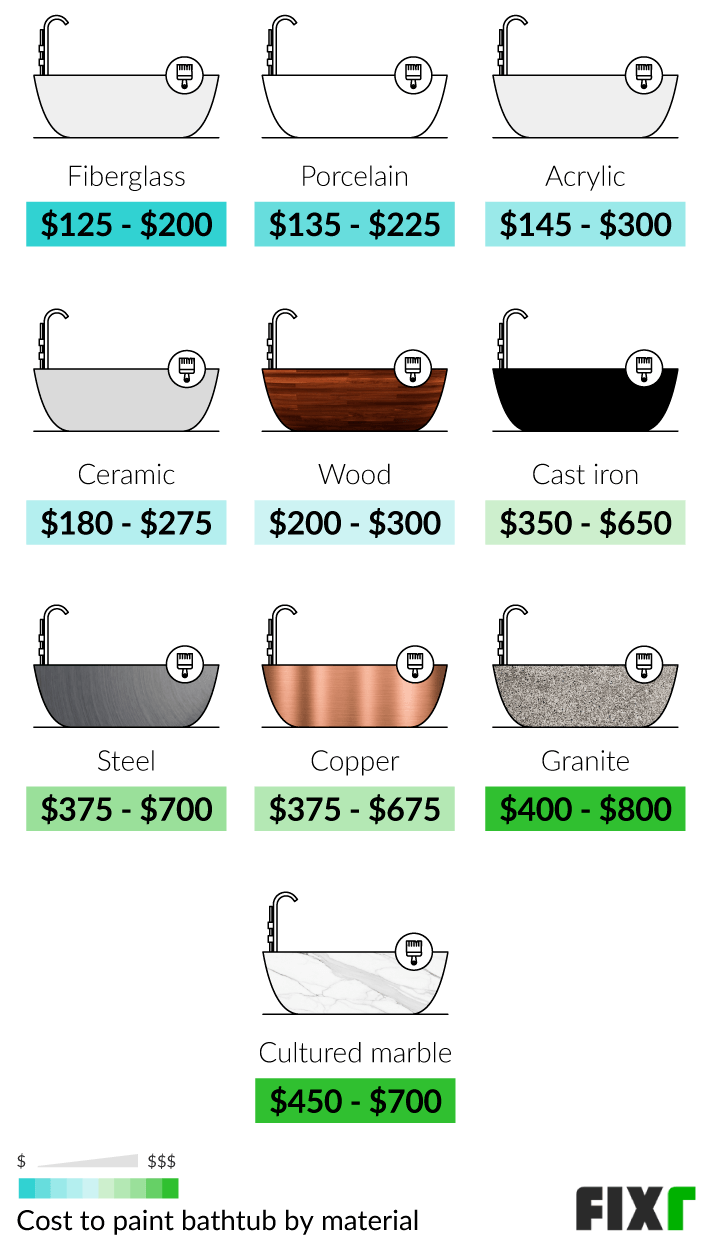 | Tub Material | Cost (Labor Included) |
| --- | --- |
| Fiberglass | $125 – $200 |
| Porcelain | $135 – $225 |
| Acrylic | $145 – $300 |
| Ceramic | $180 – $275 |
| Wood | $200 – $300 |
| Cast Iron | $350 – $650 |
| Steel | $375 – $700 |
| Copper | $375 – $675 |
| Granite | $400 – $800 |
| Cultured Marble | $450 – $700 |
Cost to Paint Bathroom Vanity
A standard vanity, measuring 48 inches, costs between $150 and $250 to be painted by a professional. A bathroom vanity could be updated with a fresh coat of paint. You may be able to paint both the vanity cabinets and the countertops, depending on the material type. Your contractor will evaluate the condition and let you know if you'll find a better value in replacing the vanity altogether or updating it with stain or paint.
Cost to Paint Shower
Expect to pay around $150 to $600 to hire a painter for your shower project. Another potential job for the bathroom is to request a contractor to paint either your shower and tub combination or your shower stall. The painter looks at the material of the shower and the overall condition before giving you an estimate of the cost. Showers need to be cleaned and sanded before being primed and painted, most often with enamel paint.
Painting Bathroom Countertops
The average cost with labor and materials to paint a bathroom countertop will be $215 to $400. Several types of bathroom countertops can be painted, including porcelain, marble, and laminate. Painting the countertop is usually a stylistic choice. For example, you may have moved into a home with a porcelain countertop in a pastel color and are looking for a more classic look for the bathroom.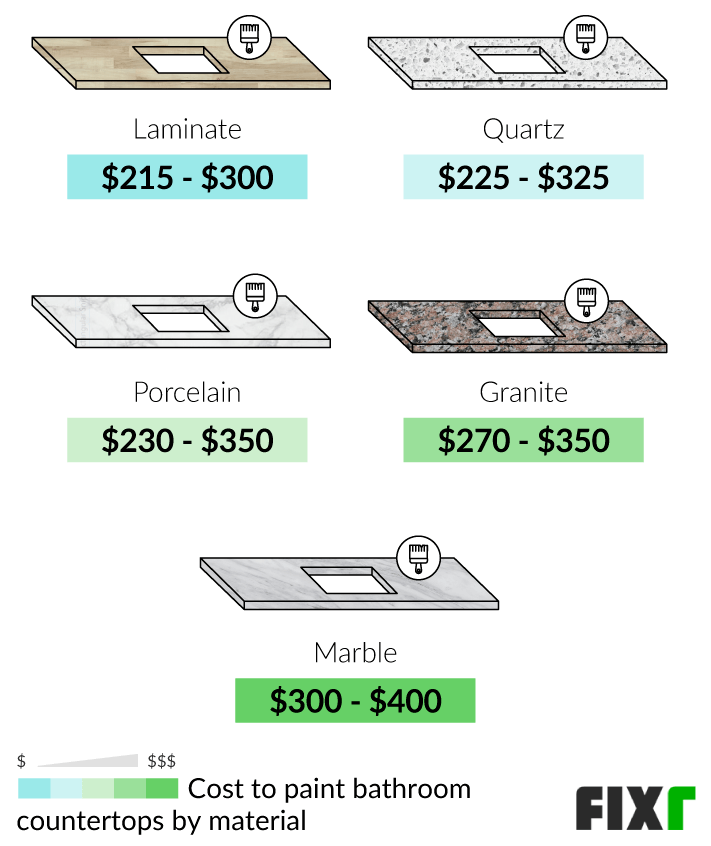 | Countertop Material | Cost to Paint (Labor Included) |
| --- | --- |
| Laminate | $215 – $300 |
| Quartz | $225 – $325 |
| Porcelain | $230 – $350 |
| Granite | $270 – $350 |
| Marble | $300 – $400 |
Bathroom Tile Paint
The average cost to paint tiles will be around $5 to $9 per sq.ft., meaning you'll spend around $250 to $450 for a contractor to paint 50 sq.ft. of tiled wall. Most people paint bathroom tile to update the look of the room without having to retile. Retiling is a much more expensive project than painting the tiles. Paint adheres to most tile types except for glazed quarry tile. The tile can be painted around the backsplash, floor, or even on the walls.
Cost to Paint a Bathroom by Type of Paint
When painting a bathroom, you can choose water-based paint or oil-based paint. Water-based paint is known as latex paint. Remember that the best type will be moisture-resistant paint for bathrooms. Water-based paints usually have more color options and are considered a more environmentally-friendly choice. However, oil-based paints are durable and usually more resistant to moisture damage, meaning they may be preferred for your bathroom project. Discuss with your contractor the advantages and disadvantages of each type before selecting a bathroom paint. The following are the average cost per gallon for each type.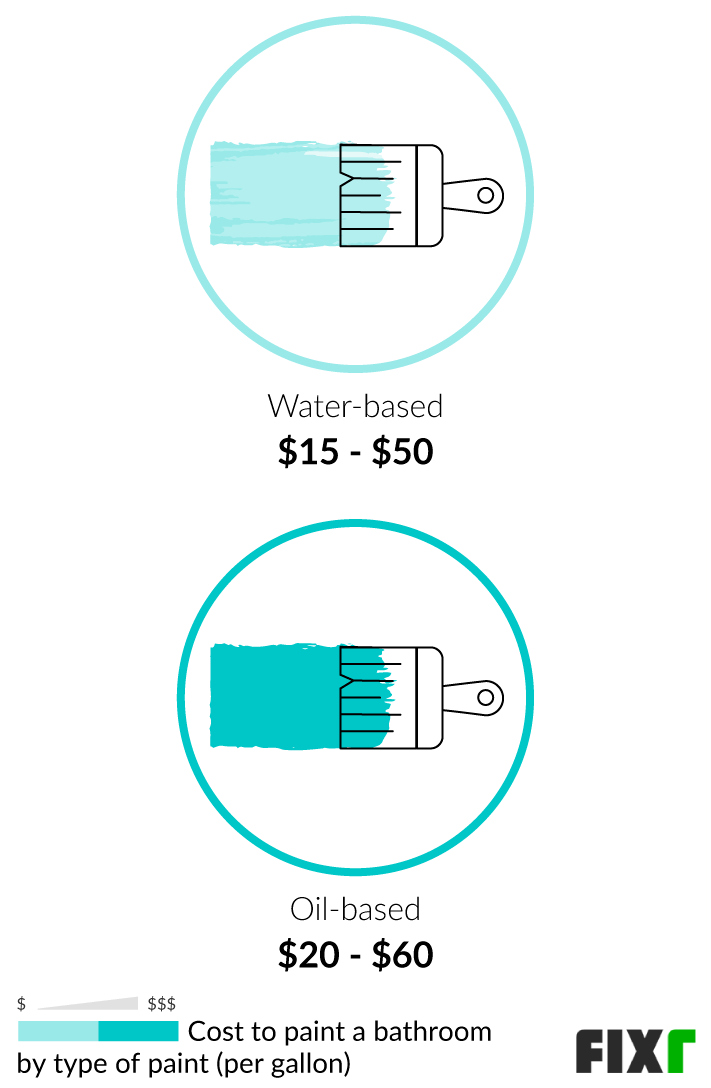 | Type of Paint | Cost per Gallon (Materials Only) |
| --- | --- |
| Water-Based | $15 – $50 |
| Oil-Based | $20 – $60 |
Water-Based Bathroom Paint
The average cost per gallon of water-based or latex paints for the bathroom is $15 to $50. Water is used as a carrier, and a pigment is added to the mixture. These paints are especially recommended in rooms that experience high amounts of moisture, including kitchens, laundry rooms, and bathrooms. However, the durability of water-based paint is less than oil-based paint. These paints are very easy to clean.
Oil-Based Bathroom Paint
Oil-based paint costs an average of $20 to $60 per gallon to use for your bathroom project. Oil-based paints are crafted from thinner, resin, and pigment. The resin allows the coating to harden and last a long time. Oil-based paints are resistant to stains and rust but less resistant to moisture damage than latex versions. Oil-based paint can be more challenging to keep clean and is preferred in areas of the home where there is less traffic.
Price to Paint a Bathroom by Type of Finish
The homeowner must also select the finish they want to use in the bathroom for the walls. The finish you choose will be based on the durability of the paint and its appearance. The following are the average cost per gallon of bathroom paint based on finish type.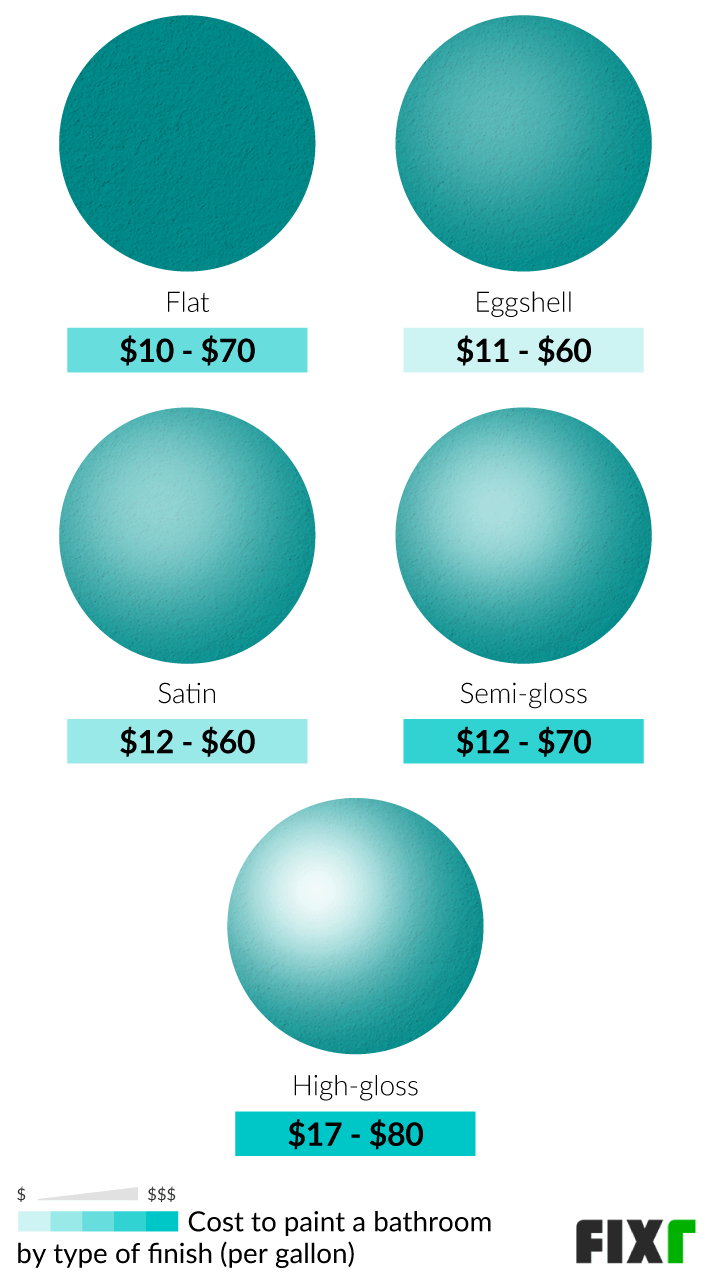 | Finish Type | Cost per Gallon (Materials Only) |
| --- | --- |
| Flat | $10 – $70 |
| Eggshell | $11 – $60 |
| Satin | $12 – $60 |
| Semi-Gloss | $12 – $70 |
| High-Gloss | $17 – $80 |
Flat Bathroom Paint
A gallon of flat bathroom paint ranges from $10 to $70. Flat bathroom paint is rarely recommended for bathroom applications. The bathroom must have great ventilation and very low moisture for a painter to consider using flat paint at all. Otherwise, the paint will peel and bubble due to the room's humidity. Flat paint provides a matte look, so it's typically seen in areas such as hallways, bedrooms, and dining rooms instead of bathrooms. Flat paint walls can be more challenging to clean.
Eggshell Bathroom Paint
Eggshell paint costs an average of $11 to $60 per gallon to use for your bathroom project. Eggshell paint has a very modest sheen to it when applied to bathroom walls or accent areas. The paint does not protect against moisture and mildew and is only recommended in powder rooms, half bathrooms, and quarter bathrooms. You may be able to use it in other rooms if a good ventilation system is in place. Eggshell paints can be cleaned easier than flat types.
Satin Bathroom Paint
A gallon of satin bathroom paint costs around $12 to $60 for the bathroom. Satin bathroom paint is categorized by a bit of gloss, less than a semi-gloss, but more than eggshell. Since the paint has less shine, it's considered less effective at repelling moisture. Therefore, the paint is best used for low moisture bathrooms. You may see satin paint in a powder room or half bathroom.
Semi-Gloss Bathroom Paint
The average cost for a gallon of semi-gloss bathroom paint is $12 to $70. Semi-gloss is a preferred option over high gloss paints for the bathroom. Semi-gloss has a slight shine to it without having the glaring appearance of gloss paint. Semi-gloss is a good repellent for moisture in the bathroom. Like high gloss, the paint is easy to clean. A semi-gloss can be selected for both the walls and accent areas of a bathroom.
High-Gloss Bathroom Paint
High gloss paint starts at $17 per gallon and can run as high as $80 per gallon. High gloss is not considered the best choice for bathroom walls for stylistic reasons. However, it can be used for some small accent areas. High gloss paints are very durable with moisture repellent properties. They make cleaning easy and can be simply wiped down. High gloss is best for trim pieces and cabinets. High gloss has a very jarring appearance when applied to large wall surface areas because of its shine.
Average Cost to Paint a Bathroom by Type of Primer
Before any painting is done in the bathroom, a professional applies a primer coat. The primer preps the walls for paint. It acts as a barrier against moisture. First, the painter makes any wall repairs and sands the area before a primer can be applied. An oil-based primer is thought to be a good choice for the bathroom since it has protective qualities against high moisture areas. The one drawback is oil has a strong odor which requires ventilation when the primer is applied. Latex-based primers will also work, especially if the contractor plans to use water-based paint. However, it may not be a good choice with oil-based paint on top. Shellac primers are a consideration, but not for the walls. Instead, they will be used for areas in the bathroom like cabinetry. The following are the cost per gallon of these primers for the bathroom.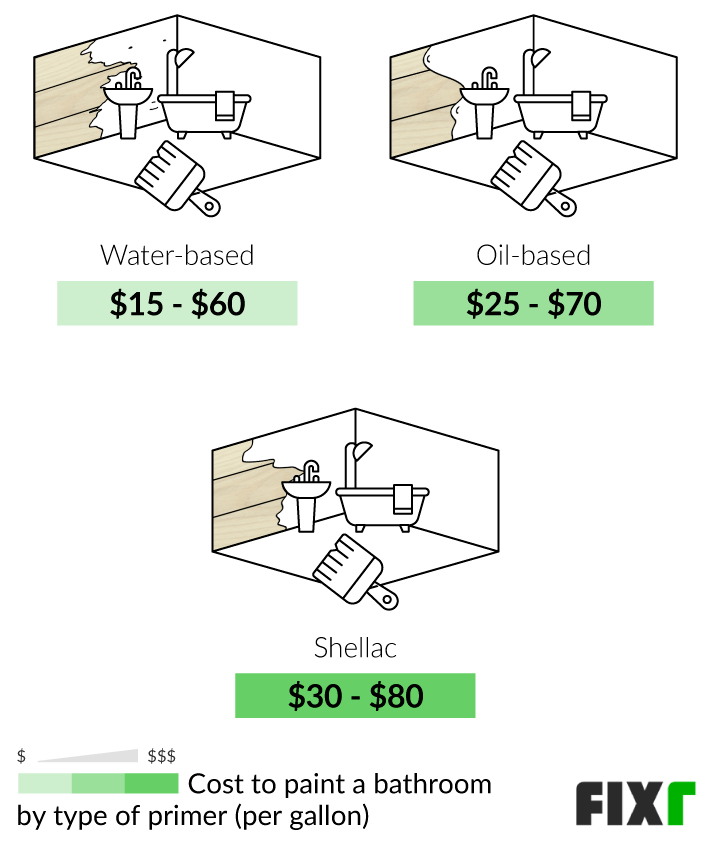 | Primer Type | Cost per Gallon (Materials Only) |
| --- | --- |
| Water-Based | $15 – $60 |
| Oil-Based | $25 – $70 |
| Shellac | $30 – $80 |
Labor Cost to Paint a Bathroom
A professional painter makes all the difference in how your bathroom painting project turns out. Painting a bathroom is not a single-day process, even if you have a smaller half-bathroom that needs to be updated. Painting the bathroom requires several return visits to your home over three to five days as the contractor preps, primes, and paints the room. If you're hiring the painter to work on the ceilings or any fixtures in the bathrooms, the project may take even longer. Painters provide an estimate free of charge, which allows you to compare quotes before choosing a contractor.
In the United States, you can anticipate paying between $25 and $100 per hour. Most professionals will not charge an hourly rate and instead will give you a project estimate with pricing around $1.50 to $3.50 per sq.ft.
Cost to Repaint a Bathroom
Over time, you may consider repainting your bathroom. Repainting means you will be applying a new coat of paint over the previous colors used. In comparison, new paint jobs would be done for new construction projects. One obvious reason to repaint a bathroom is for style reasons. You have gotten bored of the old paint color and want to freshen up the space with a new color. Another reason to repaint a bathroom is that you're noticing that the paint is peeling. You may notice discolored markings that can't be removed with cleaning agents. If there are holes in the bathroom walls, you may opt to repaint. As a general rule, repaint your bathroom every three to four years to avoid moisture problems. In most cases, repainting a bathroom takes two to four days. However, numerous drywall repairs could increase the time frame. Repainting a bathroom costs $1.50 to $3.50 per sq.ft.
Bathroom Painting Cost by Paint Brand
Several brand name paints can be used when painting your bathroom. Your contractor may recommend a preferred brand. Keep in mind that although paint companies do offer a warranty, talk to your contractor about any guarantees offered by their companies as well. A warranty covers proven defects in the actual paint itself. Not all brands specify a product that can be used specifically in the bathroom, but some brands include additives that make them moisture resistant. The following are a few brands that your contractor may use for your bathroom paint job and the average cost per gallon of paint.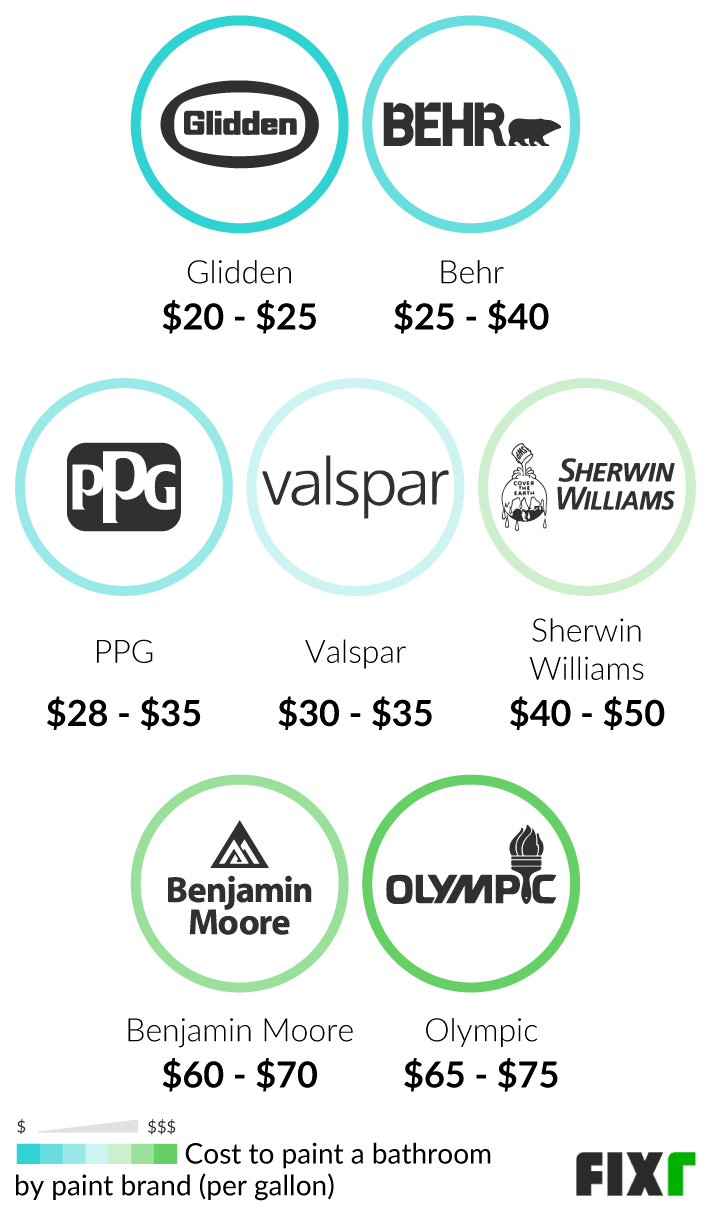 | Brand | Cost per Gallon (Materials Only) |
| --- | --- |
| Glidden | $20 – $25 |
| Behr | $25 – $40 |
| PPG | $28 – $35 |
| Valspar | $30 – $35 |
| Sherwin Williams | $40 – $50 |
| Benjamin Moore | $60 – $70 |
| Olympic | $65 – $75 |
Glidden Bathroom Paint
Contractors pay between $20 to $25 for a gallon of moisture-resistant Glidden bathroom paint. The best type of paint for the bathroom from Glidden is from their HydroResist line. The latex paint works as both a primer and sealer to keep moisture out of a bathroom. The blend is easy to wash and has a low odor mixture. The bathroom paint can be used in all areas of the bathroom except the ceiling. Glidden offers a limited lifetime warranty on their paint products if manufacturer defects are found.
Behr Bathroom Paint
Behr's moisture-resistant paint costs $25 to $40 per gallon. Behr offers a line of paints and primers that are specially formulated for both the kitchen and bathroom. These mixtures are both moisture-blocking and stain-resistant. These acrylic paints can seal surfaces. The paint can be used on flat and glossy surfaces. Behr has a limited lifetime warranty on their paint products against manufacturer defects.
PPG Bathroom Paint
A gallon of PPG moisture-resistant paint is $28 to $35. The Diamond line is often recommended for use in the bathroom when choosing PPG. The formulation is stain-fighting and mildew-resistant and can be used in laundry rooms, bathrooms, and kitchens. The blend is a primer and painter that comes in either satin or semi-gloss finish. PPG provides a limited lifetime warranty on paint products for manufacturing defects.
Valspar Bathroom Paint
The moisture-resistant paints from Valspar cost $30 to $35 per gallon for your project. Through Valspar's Ultra line, you can find a range of bathroom and kitchen paints. The product is both a paint and primer in a single formulation with a low odor blend. Also, it is resistant to mildew and made from acrylic latex. Like most paint manufacturers, you are covered for the lifetime of the paint under a limited warranty from Valspar.
Sherwin Williams Bathroom Paint
A gallon of moisture-resistant paint from Sherwin Williams costs between $40 and $50. Sherwin Williams doesn't have a specific line of bathroom paints, but they offer a line of Moisture Vapor Barrier primers and paints. The formulations are fast-drying and are meant to keep moisture off the walls to prolong paint jobs. Acrylic paints from Sherwin Williams are protected through a limited lifetime warranty on manufacturer defects.
Benjamin Moore Bathroom Paint
A gallon of moisture-resistant paint from Benjamin Moore costs from $60 to $70. The Aura line is what most contractors use when selecting bathroom paint from Benjamin Moore. The Aura paints are designed specifically for high-humidity environments such as bathrooms and spas. A highlight of the paint is that it combines both a primer and paint in a single step. The formulation is also low odor. A lifetime warranty is offered on paint products in the case of manufacturer defects.
Olympic Bathroom Paint
Olympic paint runs between $65 to $75 per gallon for their moisture-resistant options. Olympic has kitchen and bath paint available through their Premium line of painting products. The paint is semi-gloss with an interior base coat that must be combined with a separate primer from Olympic. With an acrylic formulation, the additives make the paint not only durable but very moisture resistant. Olympic has a lifetime warranty to protect consumers against manufacturer defects.
Bathroom Painting Design
Talk to your contractor ahead of time about design ideas you may have for your bathroom. You may want to add some eye-catching elements. The price depends on how labor-intensive the process will be for the painter to create the design and how much materials will cost. You may also need to find someone experienced in interior design instead of a general painter for the project.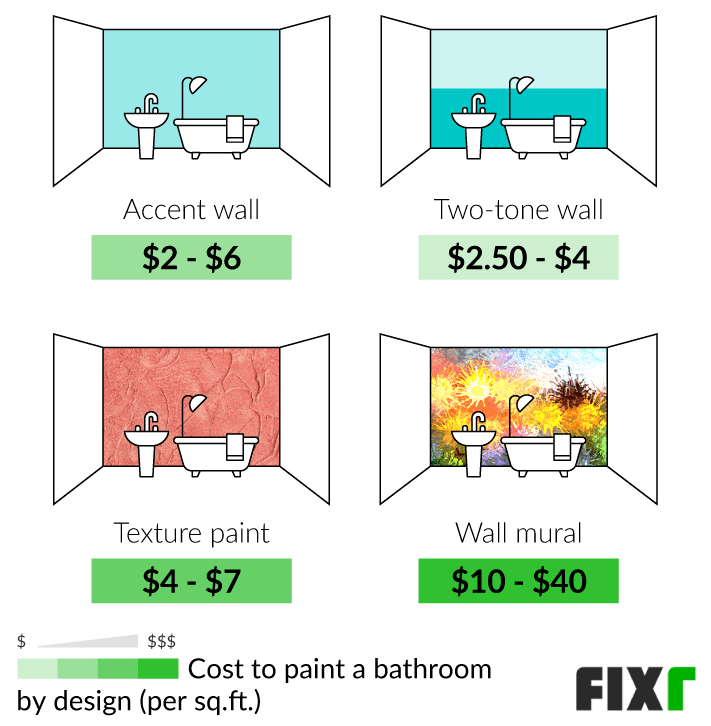 | Design Feature | Cost per Sq.Ft. (Labor Included) |
| --- | --- |
| Accent Wall | $2 – $6 |
| Two-Tone Wall | $2.50 – $4 |
| Texture Wall | $4 – $7 |
| Wall Mural | $10 – $40 |
Bathroom Accent Wall
You'll pay an average of $2 to $6 per sq.ft. to paint an accent wall in a bathroom. A bathroom accent wall is an emerging trend seen over the last couple of years. An accent wall adds a pop of color in an otherwise neutral bathroom. It can also draw the eye to a special feature in the master bathroom, like the spa tub. An accent wall can be painted in a bold color or even a painted tile.
Two-Tone Bathroom Walls
Anticipate paying around $2.50 to $4 per sq.ft. for a two-tone bathroom paint job. Two-tone bathroom walls are a great way to show off the contrast in a room. A traditional two-tone style is featured in bathrooms with base trims and wainscoting. The trim stays white while the top portion is painted in a contrasting color of the homeowner's choice. Another option is to choose another color that isn't white as the contrast for the bottom color. Some two-tone styles even feature a third strip of color that connects the bottom and top shades.
Textured Bathroom Paint
Textured bathroom paint jobs cost $4 to $7 per sq.ft. Textured bathroom paint combines the process of painting and texturing into a single process. Numerous ways may be used to texture walls, including popcorn texture, sand texture, knockdown texture, and smooth texture. Smooth texture is most often seen in a bathroom than other types and involves using heavier paint to create a subtle texture.
Bathroom Wall Murals
Since wall murals have minimal space, you will spend $1,000 to $4,000 to have a hand-painted mural in the room. This equals approximately $10 to $40 per sq.ft. Simple murals with limited detail cost $10 per sq.ft. on the low end of the range. More complex designs cost an average of $30 to $40 per sq.ft. Bathroom wall murals make a statement in your home. Wall murals are completely customized and usually ordered to your exact specifications. You will meet with a mural artist to discuss your requirements and decide on the subject of the mural. The bathroom isn't the most popular choice for a mutual but could be a conversation starter.
Preparing Bathroom for Painting
Before getting started with the painting process, some necessary prep work needs to be completed. Prep work is normally included in the cost of the labor.
Wall cleaning is an important part of prep work before painting. Wall cleaning removes grease, dirt, odors, nicotine stains, mites, and other debris from wall surfaces. Removing debris from the wall surfaces makes the walls look brighter and a lot better, preparing them for painting.
Generally, wall cleaning services charge $25 to $35 per hour. For a small room, this can be completed in a day. Some companies charge per room and start at a rate of $400 per room for smaller rooms.
Sanding the bathroom walls before painting is extremely important. You want to ensure that they are smooth, without any ridges, to apply the paint to the wall smoothly. Sanding surfaces before painting costs $0.35 to $0.40 per sq.ft. and can be done by a painter. For a good result, ask for a level drywall finish.
Taping is a method to secure and protect an area from getting paint on it during the painting process. Tape is applied directly to the surface to protect it from paint. Tape is applied to baseboard moldings, door, and window frames. Painter's tape costs $0.45 to $0.85 per sq.ft.
Removing bathroom accessories, if applicable, is important to ensure that the paint job is done properly. It makes it easier for a painter not to have to paint around accessories such as sinks and mirrors on the wall. If you are removing appliances and then reinstalling, the average cost will be $200 to $350 more.
How Much Paint Do I Need to Paint a Bathroom?
Knowing the square footage of your bathroom will help calculate how much paint is required for the space. To find out the square footage, use a measuring tape to calculate the length and width of a room in feet. Then, multiply the width and length to get the square footage. For instance, if your bathroom is 11 feet by 15 feet, it would be 165 sq.ft. You could deduct the space occupied by fixtures by measuring their height and width.
One gallon of paint covers approximately one coat of paint for 400 sq.ft. If you have a modest sized bathroom, one gallon of paint may be enough to paint the walls. Keep in mind that you may need more than one coat of paint, so confirm you have enough to accommodate two or more coats.
What Color to Paint your Bathroom?
Bathroom color choices will be different from any other room in the home. Bathrooms are not the usual rooms where homeowners decide to express their creativity. Neutral colors, like whites and creams, are easy on the eyes and have a natural calming appearance. Light pastel shades are a top choice. They will also complement your appearance if you plan to use them in a powder room. Neutrals are great for making a small bathroom appear larger. If you want richer colors, that may work better in a larger bathroom.
Design aesthetics play a part in what color you settle on for the bathroom. If you're looking for a spa-like feel, you may go for an all-white look. For a luxury bathroom look, rich colors are in trend. Tones inspired by nature, such as deep greens and reds, are popular. Guest bathrooms and powder rooms often have beach-inspired colors, such as sea greens and sky blues.
As a general rule of thumb, choose no more than three colors for the bathroom: a neutral shade, a darker color, and an accent shade. Paint the majority of the room with a neutral color and then a small percentage of the room with the darker color and accent color to add some nice pops. You could also combine two neutral shades like a light pastel and white for the bathroom.
Add-Ons to Your Bathroom Painting Project
While planning your bathroom painting project, you may find some add-ons come up. These increase the overall cost of the job. However, they beautify the bathroom and add value to the home. A painter will likely include services such as cleanup, wallpaper removal, window painting, trim painting, and more that could be added to your estimate. The following are some standard add-ons and the costs to expect from a contractor.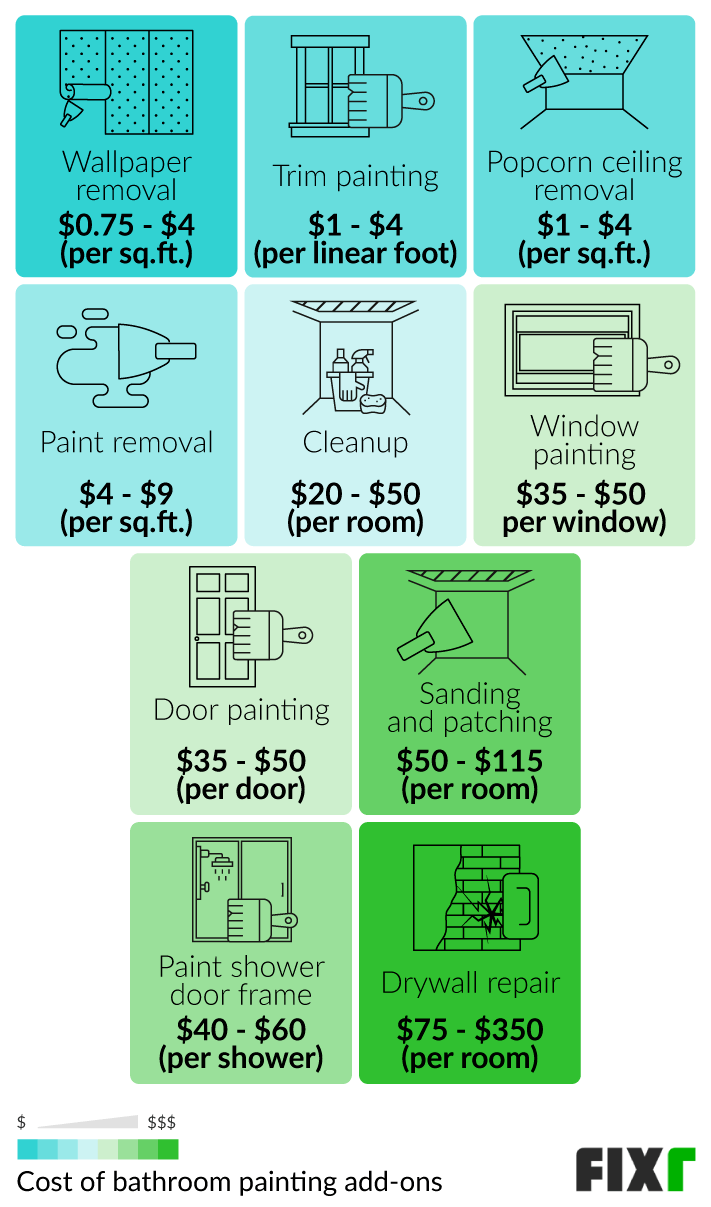 Bathroom Paint vs Regular Paint
In most cases, there aren't any products advertised as "bathroom paint." Instead, you'll find a selection of interior paints that are "mold and mildew proof." These paints have been formulated with a special resin that isn't found in regular paint. Once the paint has been applied and then completely dried, a tight barrier is formed. The barrier prevents any moisture absorption from the air. This is essential in bathrooms with any features, such as showers and tubs. The bathroom paint should prevent peeling or bubbles from forming over time. High gloss and semi gloss finishes are standard in bathroom paint since they are better at resisting moisture than flat and eggshell formulations. Bathroom paint, like regular paint, still requires a primer before application. Choose an antimicrobial primer for best results when painting the bathroom.
Enhancement and Improvement Costs
Mold Remediation Cost
Mold remediation may be considered before painting a bathroom. Mold is common in a bathroom because of the high level of moisture buildup in the room. Shower and tub areas are especially prone to mold issues. A mold remediation company can be brought in to identify the mold and provide a solution to remove it before painting the area. Mold remediation averages between $1,500 and $3,500.
Lead Paint Removal Cost
In older homes, lead paint may be an issue. Lead paint was banned in the late 1970s so that most modern structures won't have this problem. However, if you have a home with lead paint in the bathroom, you'll need to pay a professional to remove it safely before repainting. Lead paint removal costs from $8,000 to $15,000.
Additional Considerations and Costs
Permits. Most painting projects don't require a permit unless demolition work is involved.
DIY. Although some homeowners choose to paint their own bathrooms, a professional job can make a huge difference in how well the project comes out.
Value of the home. Updating a bathroom with new paint adds value and can be an inexpensive update before listing on the real estate market. Neutral colors are best for selling purposes.
Repairs. Remember to patch any holes or cracks before painting your bathroom. The contractor will add this to your estimate before starting.
Paint colors. When switching from dark to light colors or vice versa, multiple coats of paint will likely be needed in addition to the primer. After the first coat, your painter will evaluate how the walls dried to look for any spots where the previous color is still visible.
FAQs
What type of paint is best for a bathroom?
A mold and mildew resistant interior paint in semi-gloss will work best for a bathroom. This type of paint has a special resin that locks out moisture once it dries to prevent peeling or bubbles from forming.
How long does it take to paint a bathroom?
Most bathroom projects take two to four days. However, you may need a week or longer if you require wall repair or request a specialized design for the room.
What is the best paint color for a small bathroom with no windows?
Neutral colors work best for small bathrooms with no windows. The colors are calming and will not have a jarring appearance. White, cream, gray, or beige would be a solid choice.
How often should you paint your bathroom?
Bathrooms can be painted whenever you want to update the room, but as a rule of thumb, you should repaint every three to four years. Repainting every three to four years keeps moisture out of the walls.
How much does it cost to paint a small bathroom?
You'll spend $50 to $120 to paint a half bathroom that measures less than 30 sq.ft. to paint a half bathroom that measures less than 30 sq.ft.