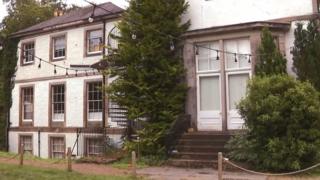 Police have launched an investigation after more than 300 people attended a party at a house in Midlothian.
Officers were called to The Mansion House of Kirkhill in Gorebridge at 00:20 on Sunday.
The party was being run as a commercial event, with those attending ordered to leave and a 29-year-old man being issued with a fixed penalty.
Organisers have been accused of showing "blatant disregard" for rules aimed at limiting the spread of coronavirus.
First Minister Nicola Sturgeon described the incident as "utterly irresponsible" and urged people not to attend house parties.
The 12-bedroom property is said to be able to sleep up to 34 guests and is advertised on Airbnb for £1,600 a night – although the company said it had not been booked through them.
In a statement published on Facebook, the owners of the property said the man who made the booking for the entire weekend "seemed very pleasant".
"We were then sadly as owners contacted at 1.30am Sunday morning by our old neighbours to say there was a huge rave and police were in attendance," they added.
"We are seeking legal action against the organisers of this event and are devastated as a family that our trust was broken."
The statement added: "It is after all our family home and we did not feel safe being there after so many people had been."
Police are now investigating the possibility of bringing culpable and reckless conduct charges against the people behind the party.
Social distancing rules mean indoor gatherings are limited to no more than eight people from three households, and police can issue £60 fines at gatherings of more than 15 people.
Repeat offenders can be fined up to a maximum of £960.
Deputy Chief Constable Malcolm Graham, said: "Those attending this organised event showed a blatant disregard for the regulations in place to help save lives and prevent the spread of coronavirus.
"Anyone attempting to hold such an event, or any party in clear breach of the law, should be aware they will be met with a robust response from Police Scotland."
Councillor Stephen Curran said: "Those 300 or so people didn't just put themselves at risk of contracting coronavirus, they put residents across Midlothian and beyond at risk.
"We realise it can be challenging following the guidance but if the majority of us can do it then so can they."
'Prevent spread'
The Midlothian party was one of about 300 reported to police across the country last weekend, with officers issuing about ten fixed penalties in total.
Five of those were issued after officers were called to a house party in Kirkintilloch, East Dunbartonshire, at about 20:00 on Saturday.
Two men were also arrested in connection with a fight at the property.
Alison McCallum, director of public health at NHS Lothian said: "We must continue to help prevent the spread of coronavirus which is why it is critical we don't socialise in the same way we did in pre-Covid times.
"This is also why nightclubs are currently closed and larger gatherings such as house parties are not permitted."