1,100 jobs to go at Pizza Express
Just in: Pizza Express's creditors have approved a restructuring deal which will see around 1,100 workers lose their jobs.
Nearly 90% of the pizza chain's creditors have approved its proposed company voluntary arrangement. The CVA will allow Pizza Express to cut its rent bills and stop operating from 73 restaurants.
The CVA is part of a wider restructuring that could save around 9,000 jobs across the business, whose debts had hit £1bn even before the pandemic. Under this plan, current owner Hony Capital would hand control of the firm to its bond holders, unless a better offer comes along…
The current strengthening in the UK housing market is 'unsustainable', reckons economist Howard Archer of EY Item Club.
He predicts that prices will have fallen by around 3% by early 2021, once the furlough scheme has wrapped up and many more people lose their jobs.



"Many people have already lost their jobs, despite the supportive Government measures, while others will be concerned that they may still end up losing their job once the furlough scheme ends. Additionally, many incomes have been affected. Consumer confidence is currently still low compared to long-term norms and many people are likely to remain cautious for some time to come when making major spending decisions such as buying or moving house.

"The EY ITEM Club suspects that the housing market is likely to come under pressure over the final months of 2020 when there is likely to be a significant rise in unemployment as the furlough scheme draws to a close in October. This will not only adversely affect the fundamentals for house buyers, but also likely fuel caution on committing to buying a house. There is also likely to be a fading of the pent-up demand effect on activity. Consequently, the EY ITEM Club predicts that the housing market could struggle late on in 2020 with house prices coming under downward pressure.
House prices jump: what the experts say
Mark Harris, chief executive of mortgage broker SPF Private Clients, says a 'perfect storm' of factors drove UK house prices to record levels last month.



'Just as Nationwide recorded last week, Halifax's house price index also shows prices hitting a record high in August. The perfect storm of pent-up demand, lockdown prompting a desire for bigger homes and the cut to stamp duty has created a strong surge in market activity, which has carried on into this month.
Miles Robinson, head of mortgages at online mortgage broker Trussle, points out that it's getting harder to jump on to the housing ladder:



Large numbers of buyers are already locked out of the market. First-time buyers in particular are facing increased scrutiny from lenders, tighter criteria and a shrinking range of high loan-to-value (LTV) products.

The number of 90% LTV mortgage products available has dramatically decreased, with 92% of deals pulled from the market since March this year. Alongside this, rising house prices means first-time buyers will be getting less for their money, presenting a further hurdle to getting onto the property ladder.
Harris also points out that buyers with large deposits are getting the best deals, while it's tougher for first-time home owners.
Guy Harrington, CEO of residential lender Glenhawk, reckons UK house prices will suffer once the job retention scheme ends:



"The pent-up demand has clearly defied the seasonal slowdown that normally takes place this time of year. However, the housing market can't remain immune from the economic downturn indefinitely.

As the government's furlough scheme comes to an end along with the mortgage and stamp duty holidays, as well as the prospects of a no-deal Brexit, we could very well see the impact become evident later in the year or in 2021."
Here's the details of Halifax's house price report: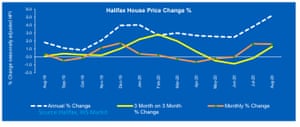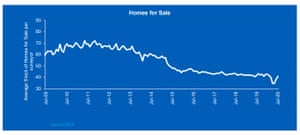 UK house prices hit record high..but it probably won't last
Just in: UK house prices hit a record high in August, according to the latest figures from Halifax.
The price of the average property surged by 5.2% last month, Halifax says. That's the fastest rise since late 2016.
Prices jumped by 1.6% in August alone, a little faster than forecast, lifting the average price to £245,747.
In the June-August quarter, prices were 1.3% higher than in the previous three months.
It's a clear sign that demand for property has risen since the lockdown was eased [rival lender Nationwide also reported prices were at record levels last week].
It's partly due to the lockdown, with some families are looking to move to larger homes having been cooped up together for months. The temporary suspension of stamp duty on houses up to £500,000 is also helping.
Russell Galley, managing director at Halifax, explains:



"A surge in market activity has driven up house prices through the post-lockdown summer period, fuelled by the release of pent-up demand, a strong desire amongst some buyers to move to bigger properties, and of course the temporary cut to stamp duty.
But Galley also warns that house prices will come under pressure as Covid-19 drives unemployment up.



"Notwithstanding the various positive factors supporting the market in the short-term, it remains highly unlikely that this level of price inflation will be sustained. The macroeconomic picture in the UK should become clearer over the next few months as various Government support measures come to an end, and the true scale of the impact of the pandemic on the labour market becomes apparent.

Rising house prices contrast with the adverse impact of the pandemic on household earnings and with most economic commentators believing that unemployment will continue to rise, we do expect greater downward pressure on house prices in the medium-term."
Pound drops amid new Brexit worries
Sterling is under some pressure this morning, as fears of a no-deal Brexit ripple through the City again.
The pound has dropped by half a euro cent to €1.1167, a one-week low. Against the US dollar, it's lost half a cent to $1.322. These aren't big falls, but they do show that Brexit fears are on the rise.
This comes after reports that the UK government is drawing up legislation that will override the Brexit withdrawal agreement on Northern Ireland — a key part of the 'oven ready' deal agreed late last year.
Such a move could collapse the negotiations on the new UK-EU relationship, which Boris Johnson says must be completed within five weeks.
A UK government source told the Guardian the plan was part of the preparation for a no-deal exit that would present a number of new barriers to trade from Northern Ireland – and accepted that the move was likely to blow up at the negotiations this week.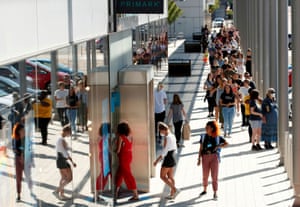 Shares in AB Foods have jumped 1.7%, after telling shareholders that full-year profits at its Primark division will hit the top end of expectations.
My colleague Julia Kollewe explains why:



The budget clothing chain Primark said its UK market share had increased after customers flocked back to it since it reopened all its stores, with trading better than expected.

Primark, owned by Associated British Foods, said customer spending on clothes, footwear and accessories had been recovering since hitting a low point in April during the Covid-19 lockdown when all its stores were closed. It reopened all 153 stores in England in mid-June, while its 112 stores in Germany, Spain and the Netherlands reopened earlier.
After recovering in May and June, the oil price flattened over the summer…and is now heading down again….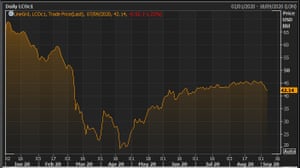 Oil hit by Saudi price cuts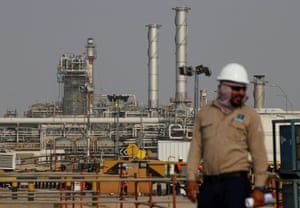 You might expect China's jump in exports to push the oil price higher, as it indicates stronger global growth.
But no. Oil has dropped by 1% this morning, to its lowest level since July.
The selling was triggered by the news that Saudi Arabia lowered the price of its oil, by th the most in five months. That indicates weaker demand for crude, in a world still awash with oil following the global lockdowns.
Reuters has the details:



Saudi Arabia's state oil producer Aramco cut its October official selling price (OSP) for its Arab Light crude oil to all destinations, the company said in a statement on Saturday.

Aramco reduced the OSP for its Arab Light crude grade to Asia by $1.40 a barrel, setting it at a minus $0.50 per barrel versus Oman/Dubai average.
This has knocked the benchmark Brent crude as low as $41.50 per barrel this morning, as optimism about increased oil demand fades.
China's manufacturers have benefited from the surge in demand for IT products to help families work, and play, through this year's lockdowns, as well as massive demand for PPE equipment.
Bo Zhuang, chief China economist at TS Lombard, says this explains the "very strong" demand for commodities – but he also cautions that this growth will slow.
He added that even though import numbers for August were disappointing, demand for commodities was "very strong." However, imports of machinery were weak.



"Chinese bought more of the raw materials but were still quite pessimistic on the investment outlook based on the import numbers

"Once European or American households have bought one laptop or two game consoles, they are not going to continue to buy these type of goods for the foreseeable future,".
Today's trade report shows that China's demand for raw materials has been red hot this summer.
Copper imports hit record highs in June and July, before dipping slightly in August.
So far this year, Chinese firms have bought 4.7m tonnes of copper, up from 3.1m in the first eight months of 2019.
In August alone, imports of unwrought copper and copper products into China reached 668,486 tonnes last month, down from a record 762,210.9 tonnes in July, according to China's General Administration of Customs.
Introduction: Chinese exports jump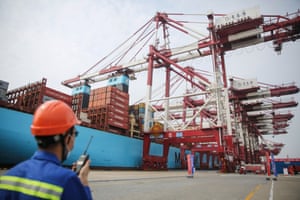 Good morning and welcome to our rolling coverage of the world economy, the financial markets, the eurozone and business.
China has got the new week off to a bright start, by reporting its strongest jump in exports in 18 months as the world economy emerged from Covid-19 lockdowns.
Sales of Chinese-made goods abroad jumped by 9.5% in August, compared with a year ago. That's rather stronger than expected, and the biggest monthly gain since March 2019.
That suggests demand is picking up across the global economy, meaning more demand for manufactured goods. Hopefully, it's a sign that growth picked up over the summer, following record-breaking economic contractions.
However, the value of China's imports slumped 2.1% year-on-year in August….having fallen 1.4% in July.
That drop in domestic demand is concerning, given China was able to relax its coronavirus restrictions earlier than many other countries.
If exports keep rising faster than imports, then China's trade surplus will swell – potentially sparking more trade war tensions.
As Louis Kuijs of Oxford Economics puts it:



"China's exports continue to defy expectations and to grow significantly faster than global trade, thus gaining global market share."
More reaction to follow….
Also coming up today
New UK house data from Halifax is expected to confirm that prices rose in August as the Covid-19 lockdown lifted. We also find out how Ireland's economy fared in the second quarter of 2020.
After two days of chunky falls, Wall Street is closed for the Labor Day holidays. That gives investors more time to digest the tumble in technology stocks that began last Thursday.
The agenda
8.30am BST: Halifax house price survey for August
11am BST: Ireland's GDP report for Q2 2020
Updated